How to Sign Up and Deposit Money to Exness



How to Sign up for Exness
How to Sign up Exness Account on the Web app
How to Sign up for an account
1. Go to the
Exness homepage
 and click "Open account". You will be asked to fill in the necessary information for the account opening.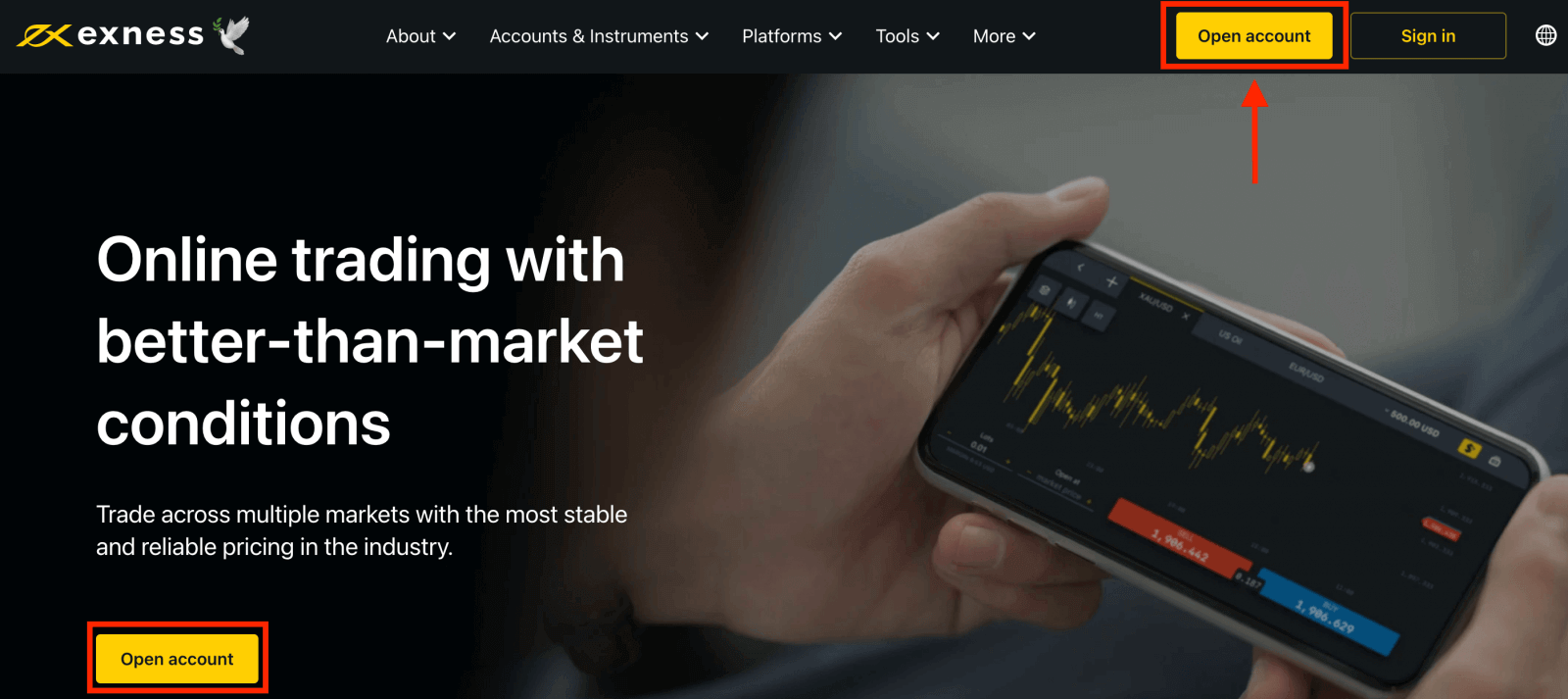 2. At the registration page:
Select your country of residence; this cannot be changed and will dictate which payment services are available to you.
Enter your email address.
Create a password for your Exness account following the guidelines shown.
Enter a partner code (optional), which will link your Exness account to a partner in the Exness Partnership program.
Note: in the case of an invalid partner code, this entry field will be cleared so that you can try again.
Tick the box declaring you are not a citizen or resident of the US if this applies to you.
Click Continue once you have provided all the required information.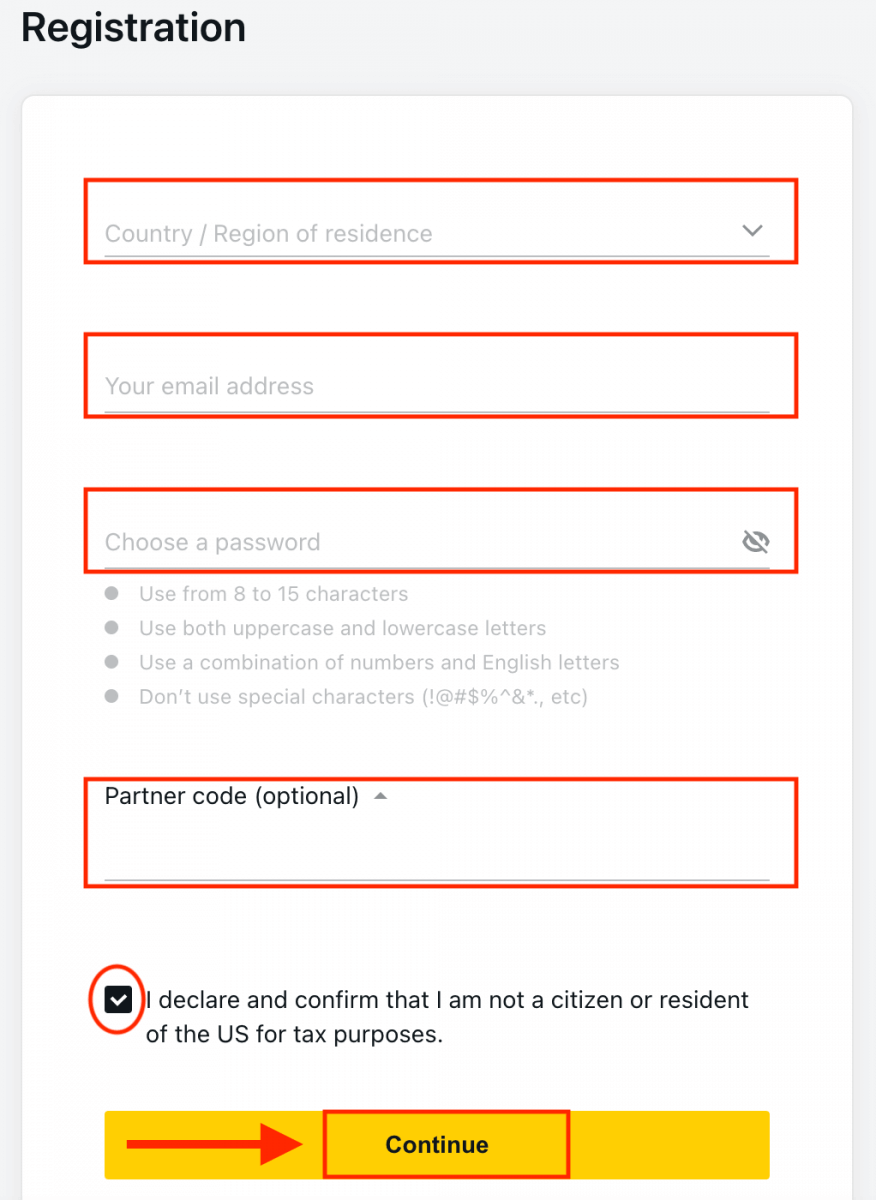 3. Congratulations, you have successfully registered a new Exness Account and will be taken to Exness Terminal. Click the "
Demo Account
" button to trade with the Demo account.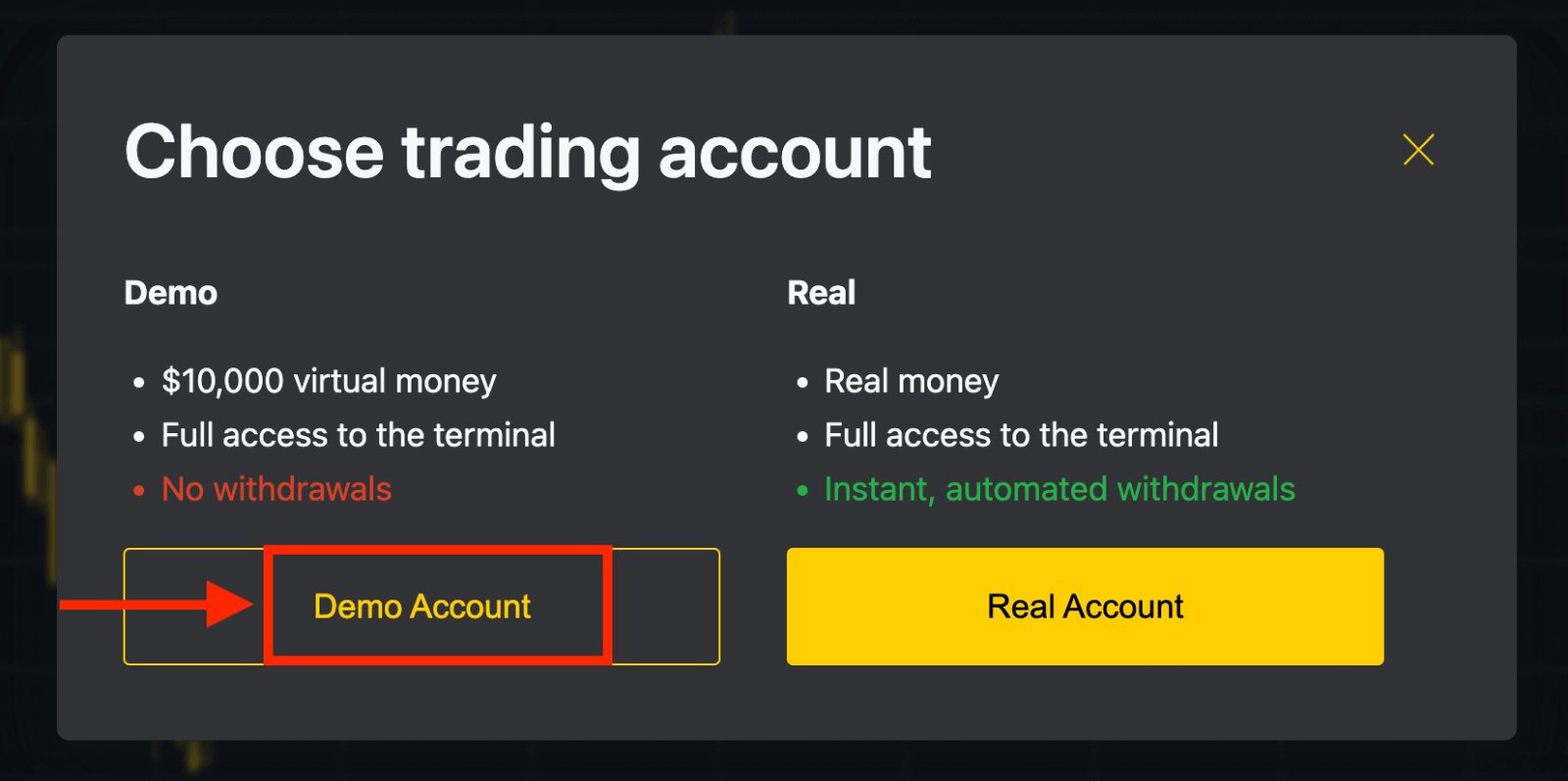 Now you don't need any registration to open a demo account. 
$10,000 in a Demo account
 allows you to practice as much as you need for free.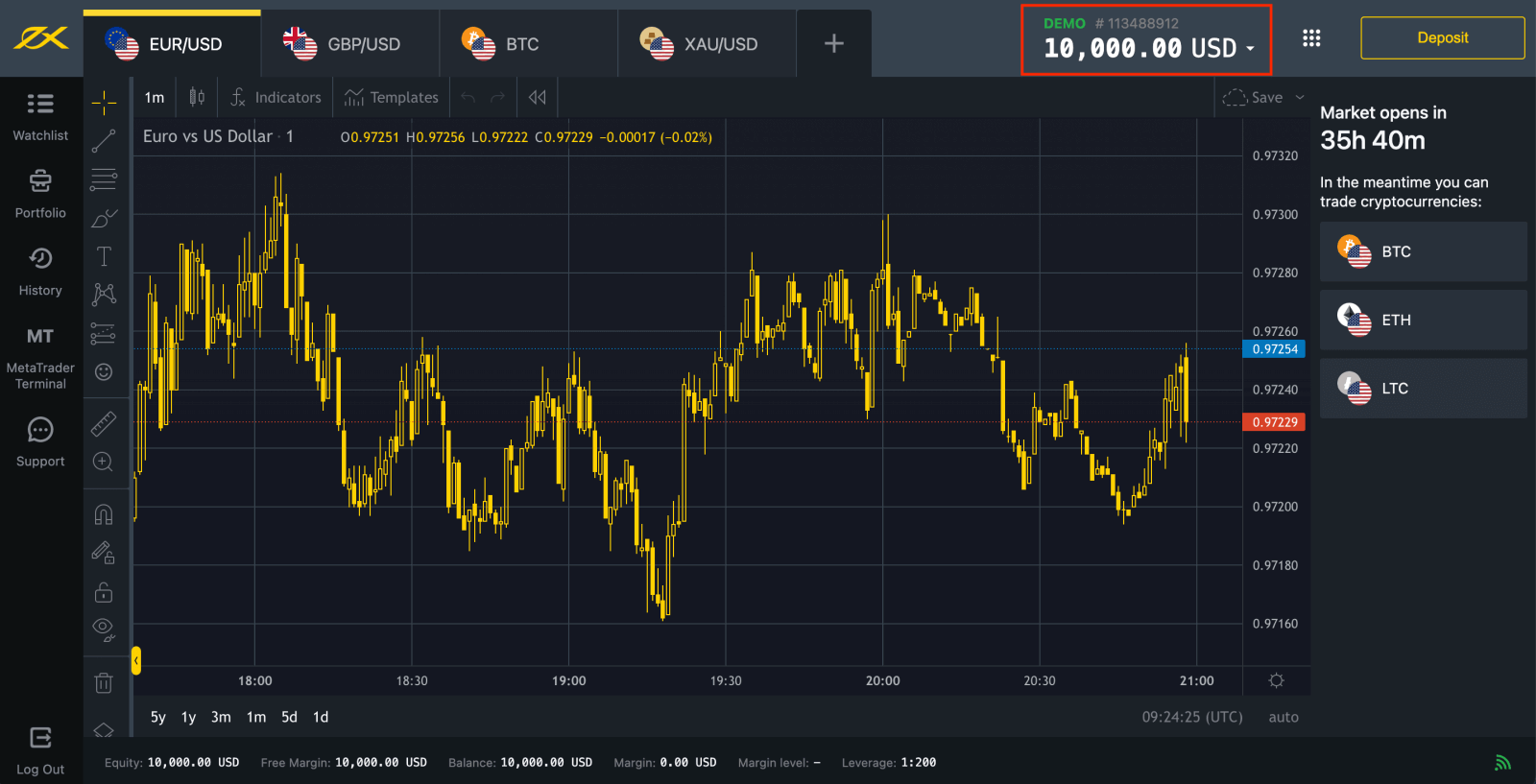 You can also trade on a
Real 
account after depositing. Click the "
Real Account
" yellow button to trade with a real account.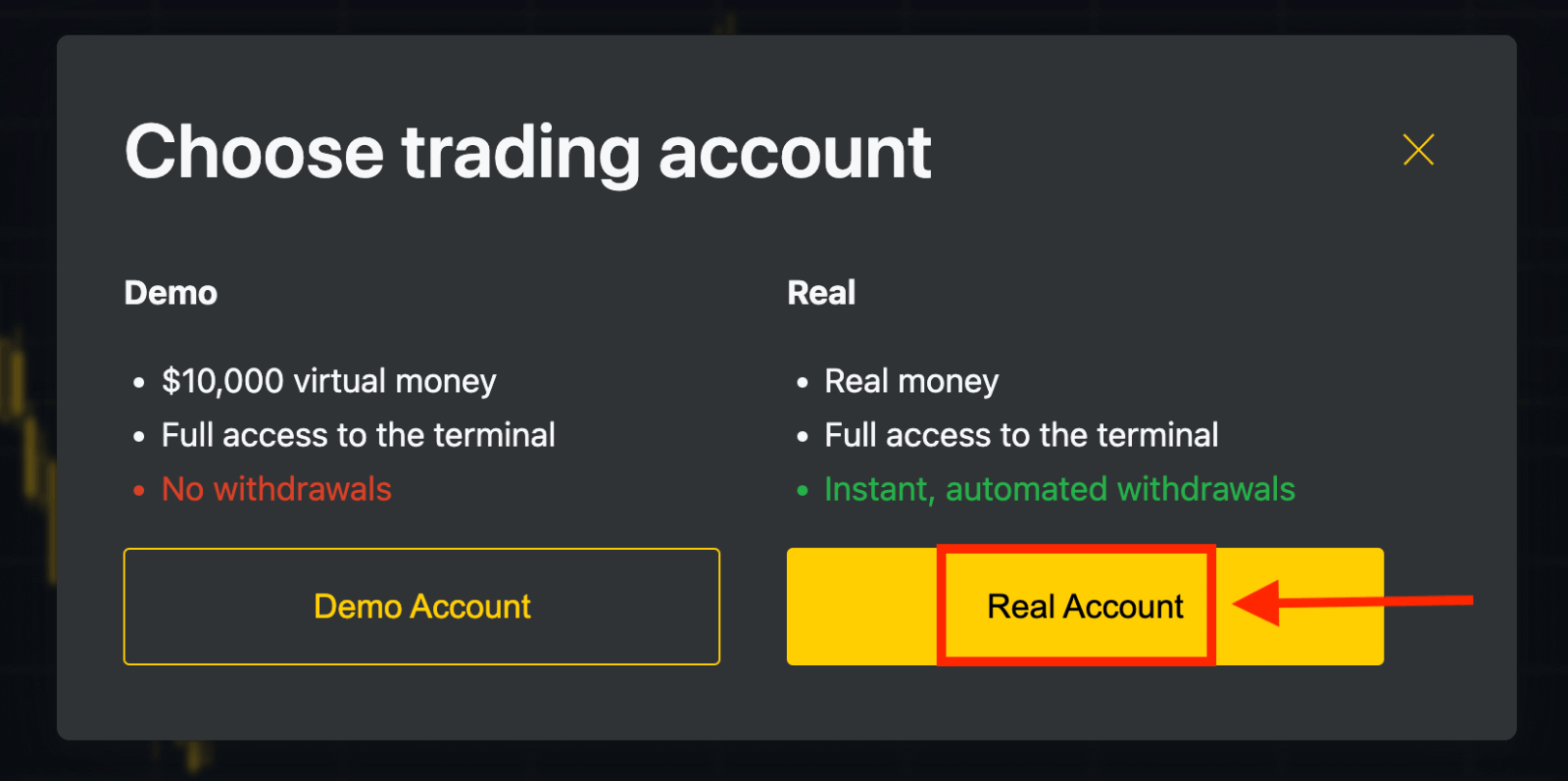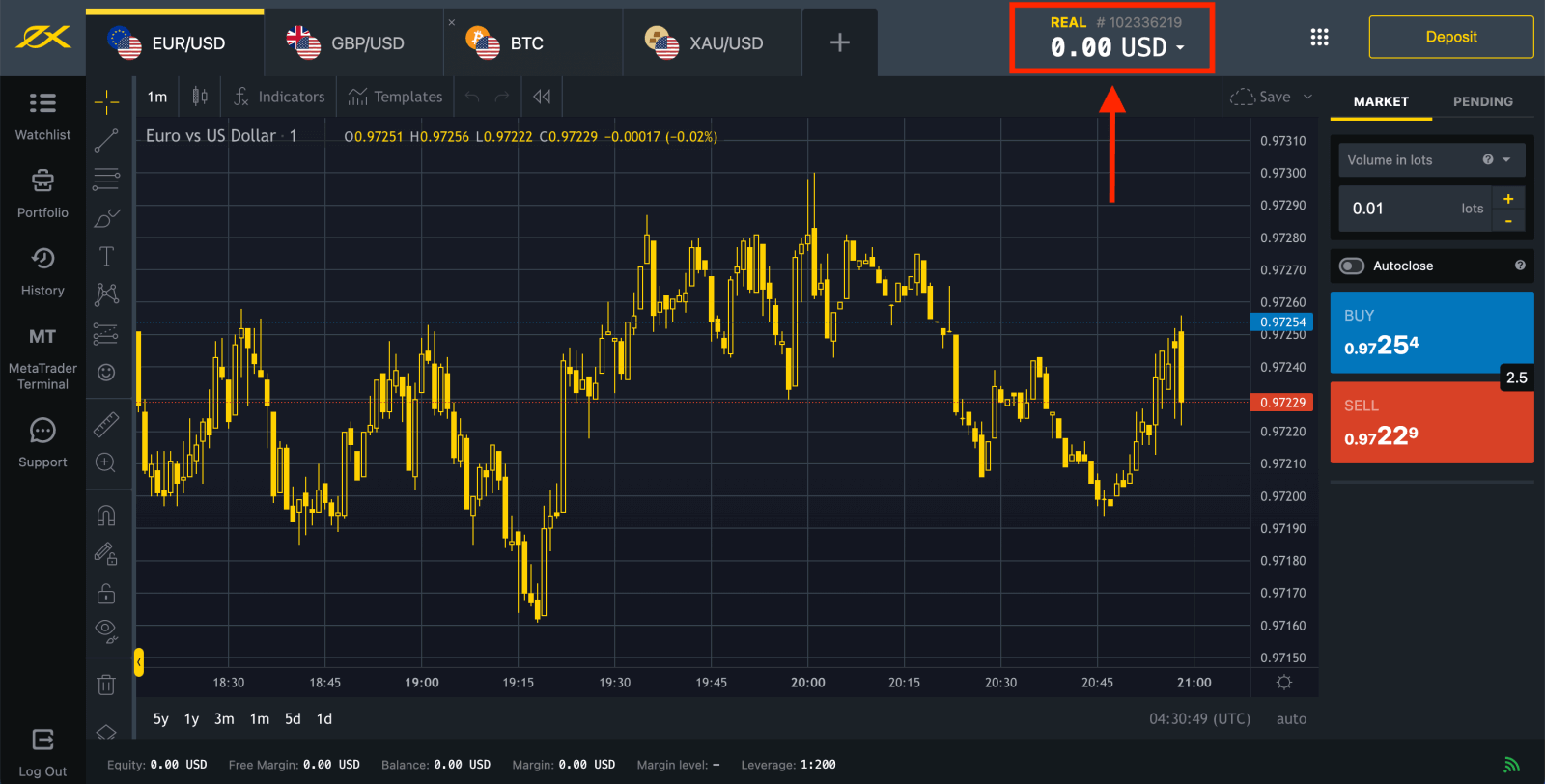 Go to 
Personal Area
to open more trading accounts.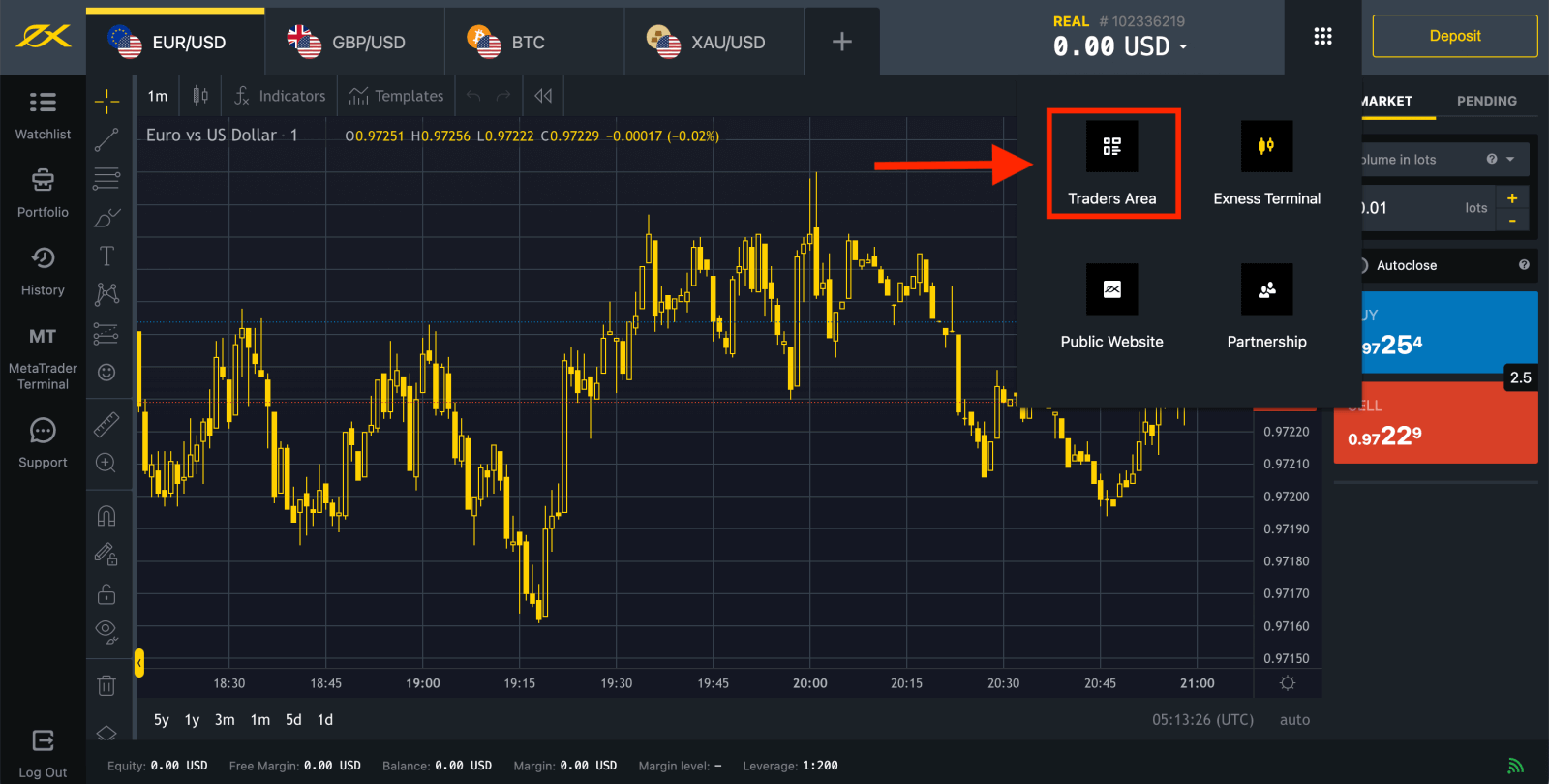 By default, a real trading account and a demo trading account (both for MT5) are created in your new Personal Area; but it is possible to open new trading accounts.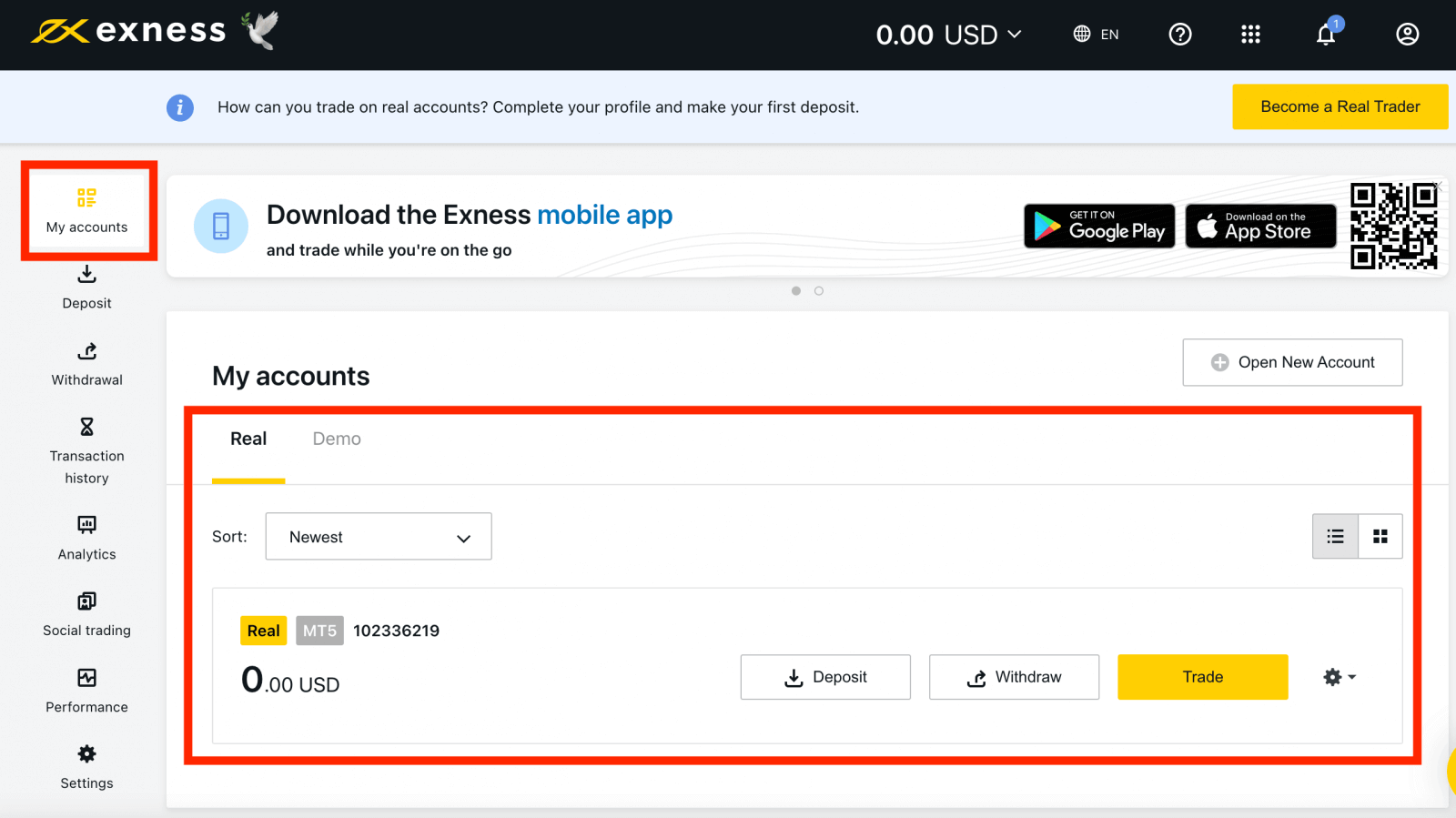 Registering with Exness can be done at any time, even right now!
Once you have registered, it is advised that you fully verify your Exness account to gain access to every feature available only to fully verified Personal Areas.



How to create a new trading account
1. From your new Personal Area, click Open New Account in the 'My Accounts' area.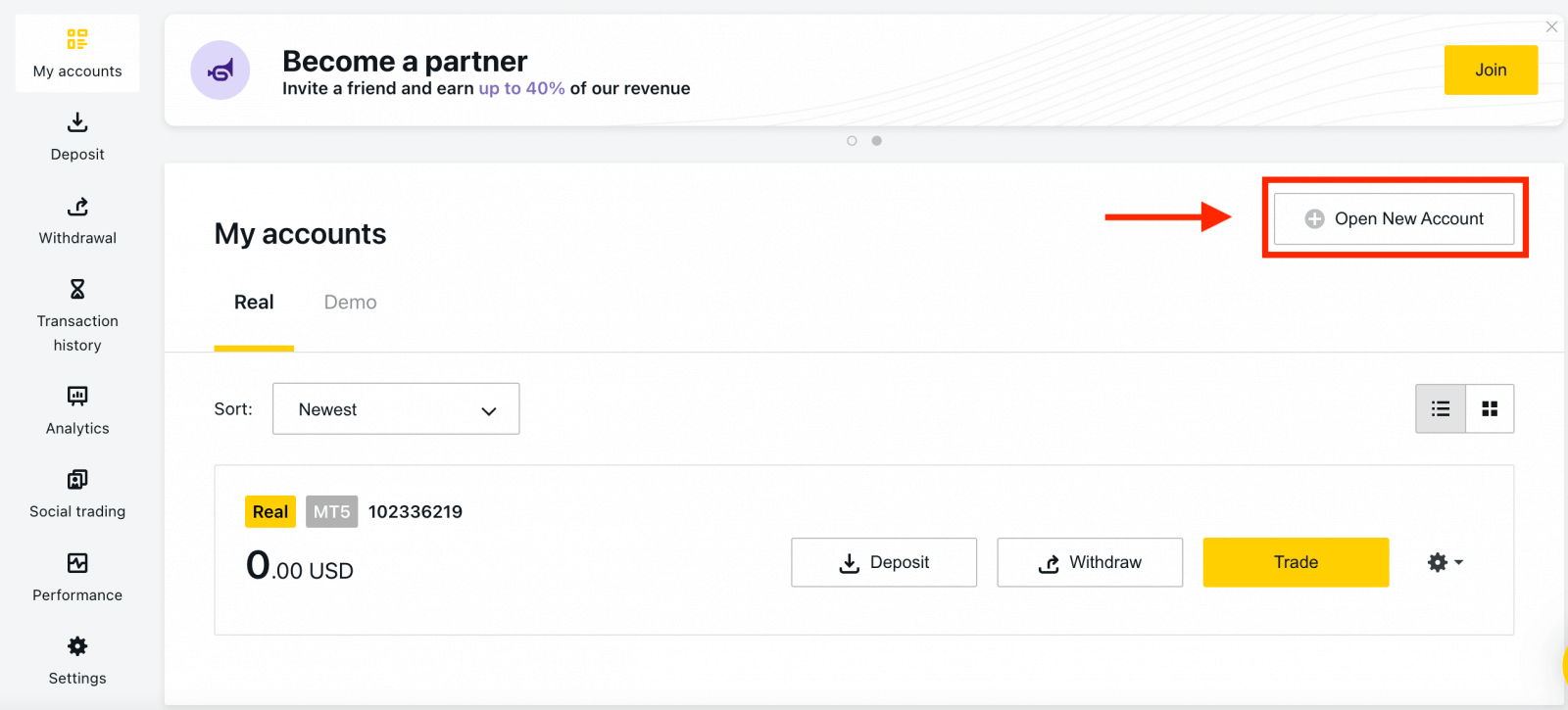 2. Choose from the available trading account types, and whether you prefer a real or demo account.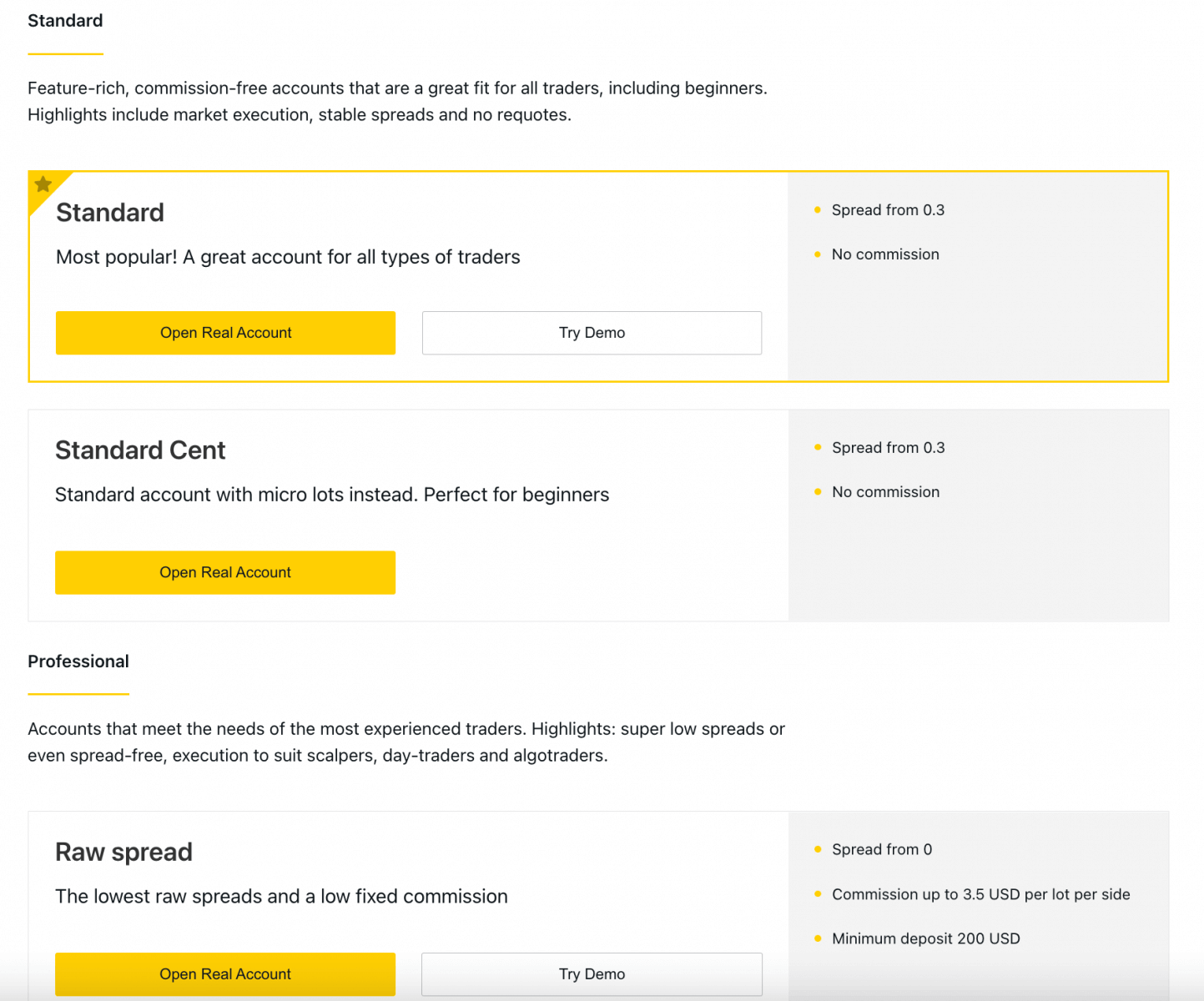 3. The next screen presents the following settings:
Another chance to select a Real or Demo account.
A choice between MT4 and MT5 trading terminals.
Set your Max Leverage.
Choose your account currency (note that this cannot be changed for this trading account once set).
Create a nickname for this trading account.
Set a trading account password.
Click Create an Account once you are satisfied with your settings.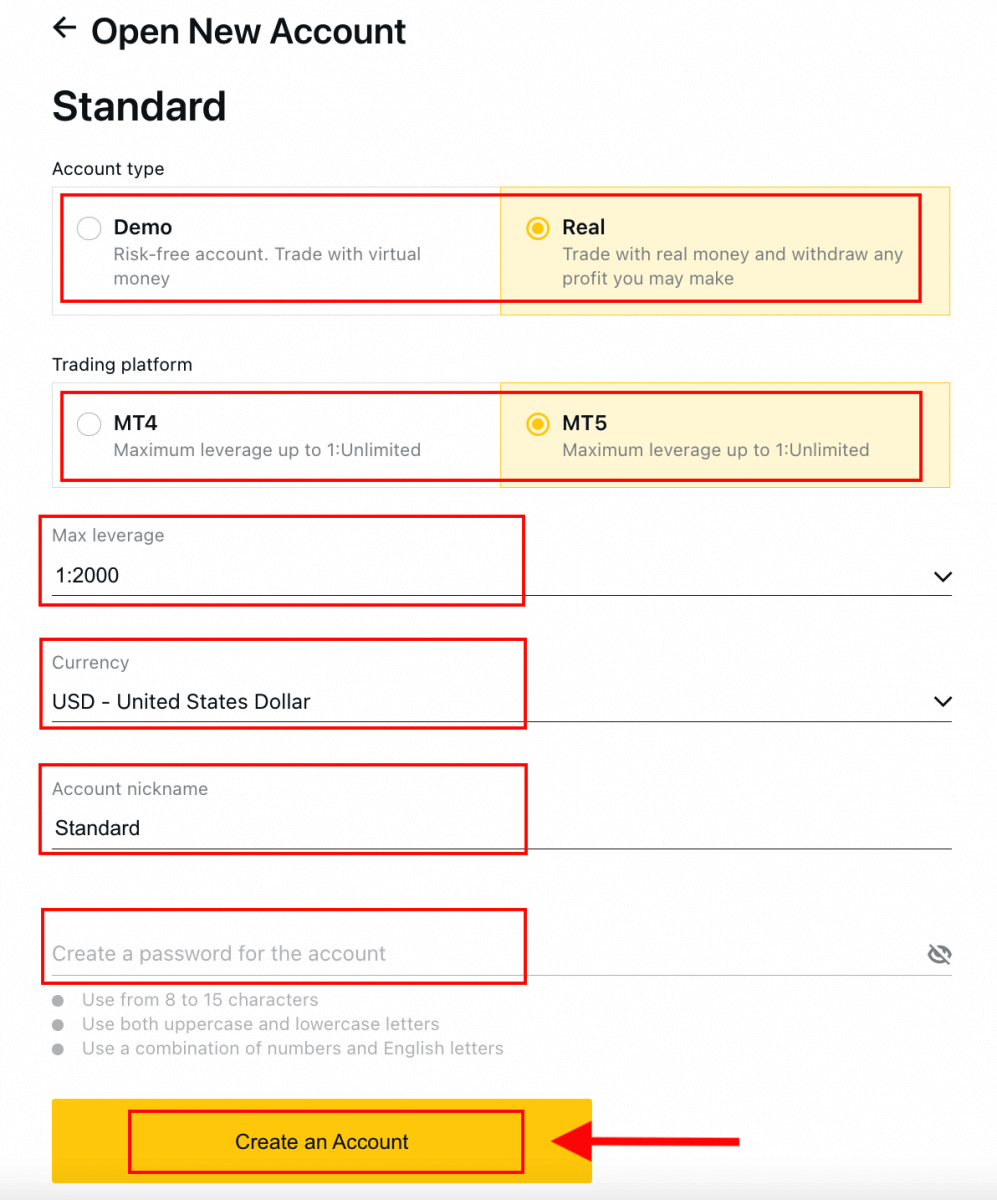 4. Your new trading account will show up in the 'My Accounts' tab.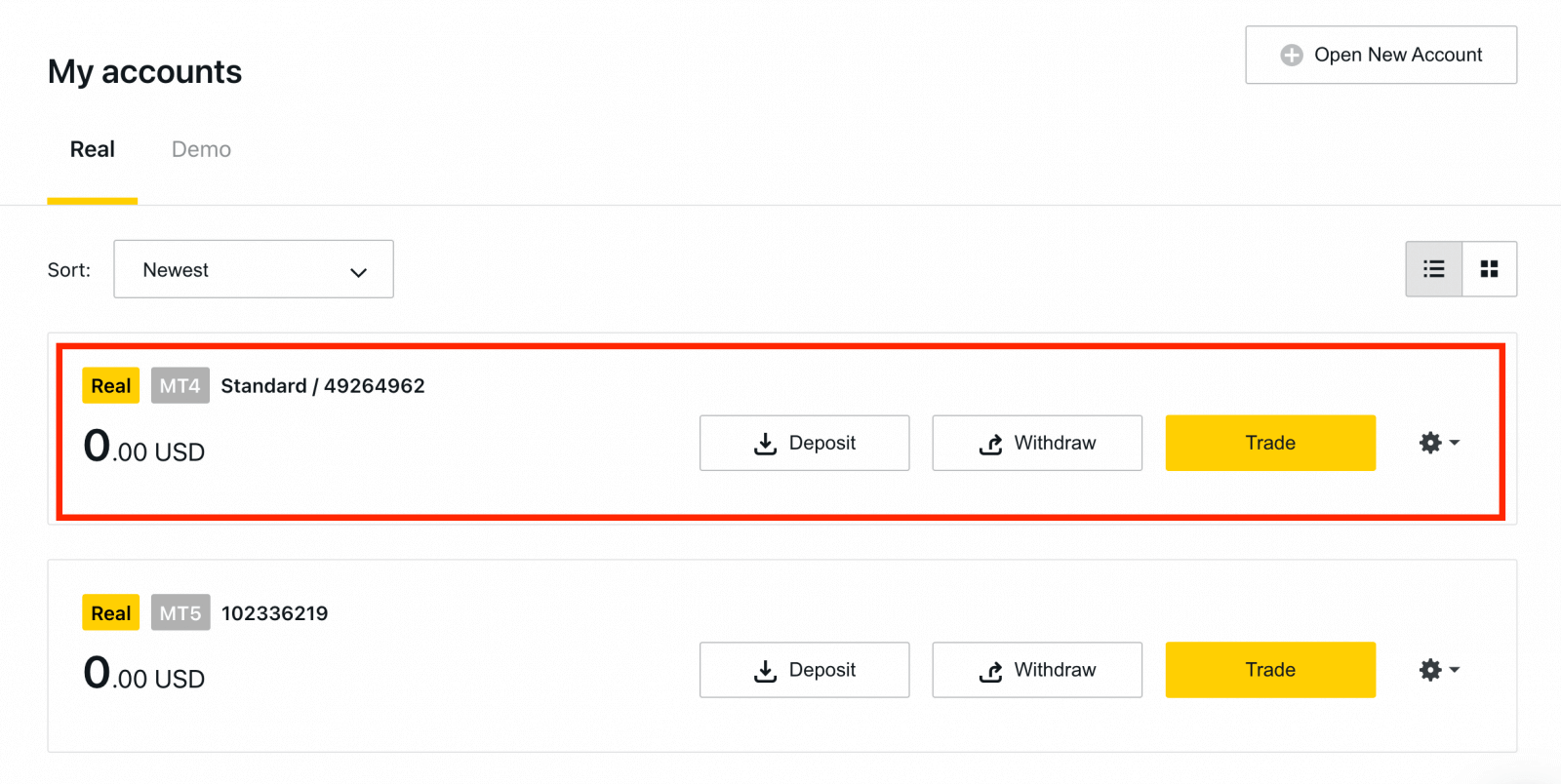 Congratulations, you've opened a new trading account.
How to Deposit in Exness
How to Sign up Exness Account on the Exness Trader app



Install the Exness Trader app and Sign up account
1. Download Exness Trader from the
App Store
or
Google Play.
2. Install and load Exness Trader.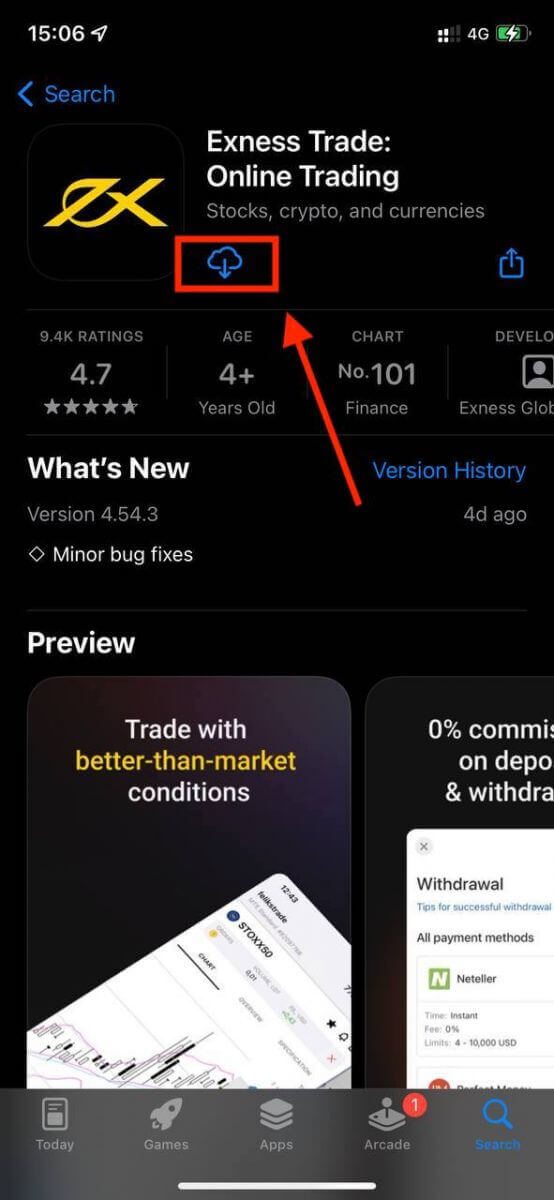 3. Tap 
Register
.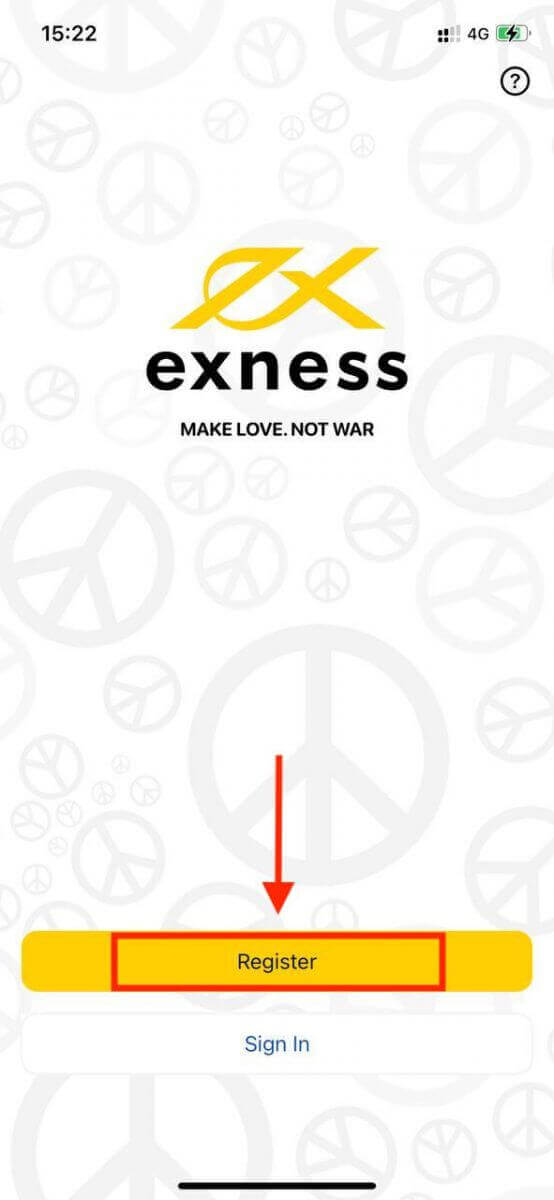 4. Tap 
Change Country/Region
 to select your country of residence from the list, then tap 
Continue
.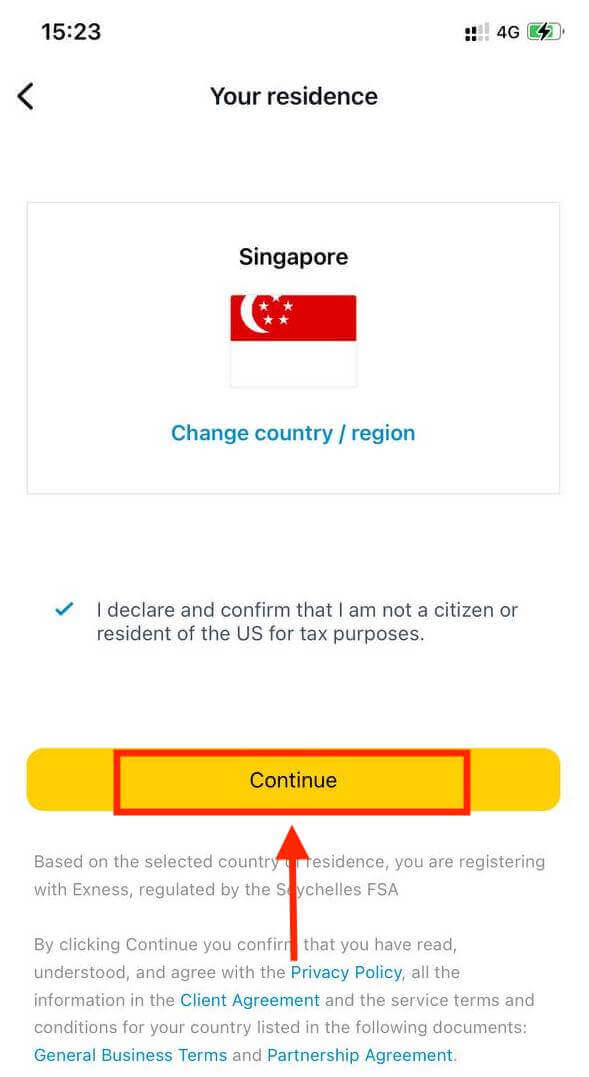 5. Enter your email address and 
Continue
.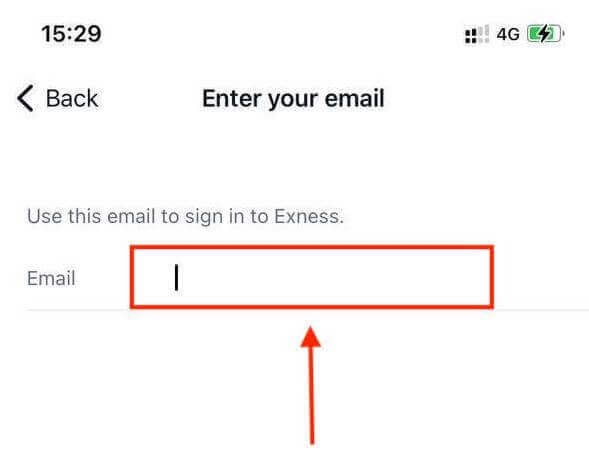 6. Create a password that meets the requirements. Tap 
Continue
.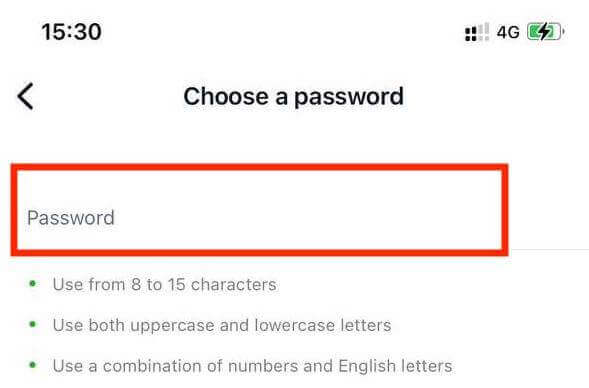 7. Provide your phone number and tap 
Send me a code
.
8. Enter the 6-digit verification code sent to your phone number, then tap 
Continue
. You can tap 
Resend me a code
 if the time runs out.
9. Create a 6-digit passcode, and then re-enter it to confirm. This is not optional, and must be completed before you can enter Exness Trader.
10. You can set up biometrics by tapping 
Allow
 if your device supports it, or you can skip this step by tapping 
Not now
.
11. The deposit screen will be presented, but you can tap back to return to the main area of the app.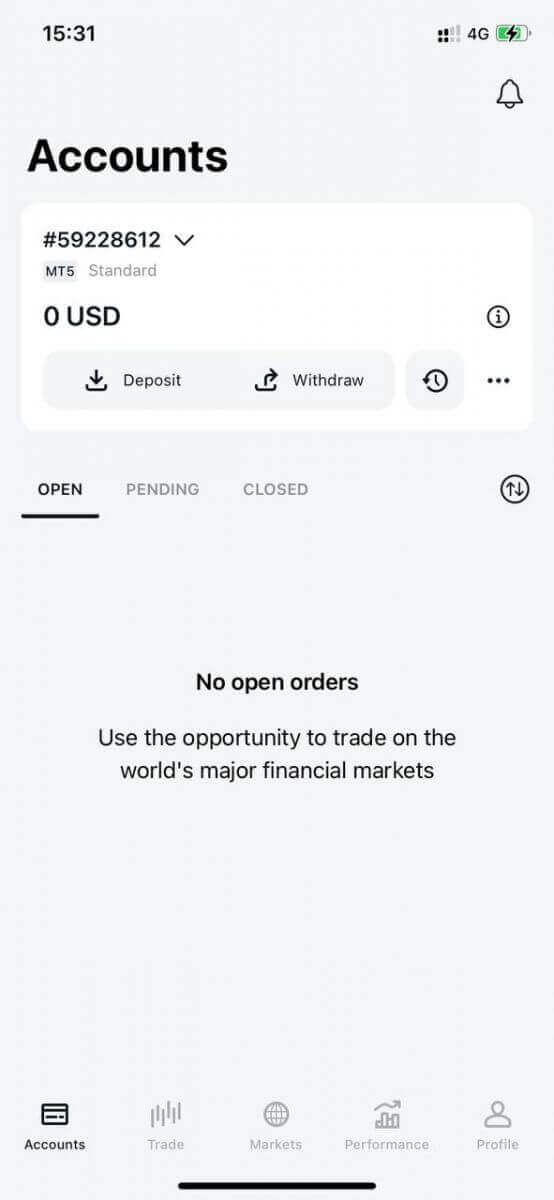 Congratulations, Exness Trader is set up and ready to use.

Upon registration, a demo account is created for you (with USD 10 000 virtual funds) to practice trading.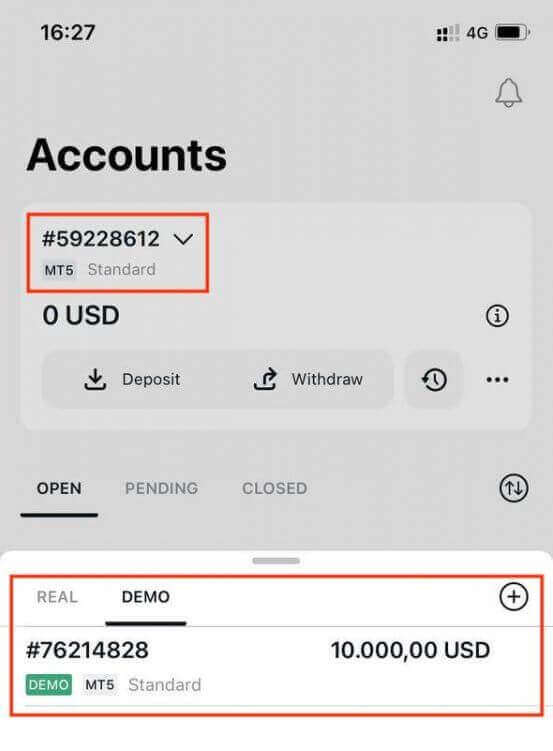 Along with a demo account, a real account is also created for you upon registration.



How to create a new trading account
Once you have registered your Personal Area, creating a trading account is very 
simple 
and doesn't take a lot of time. Let us take you through how to create an account on the Exness Trader App.
1. Tap on the dropdown menu on your Accounts tab on your main screen.
2. Click on the plus sign on the right side and select 
New Real Account
or
New Demo Account
.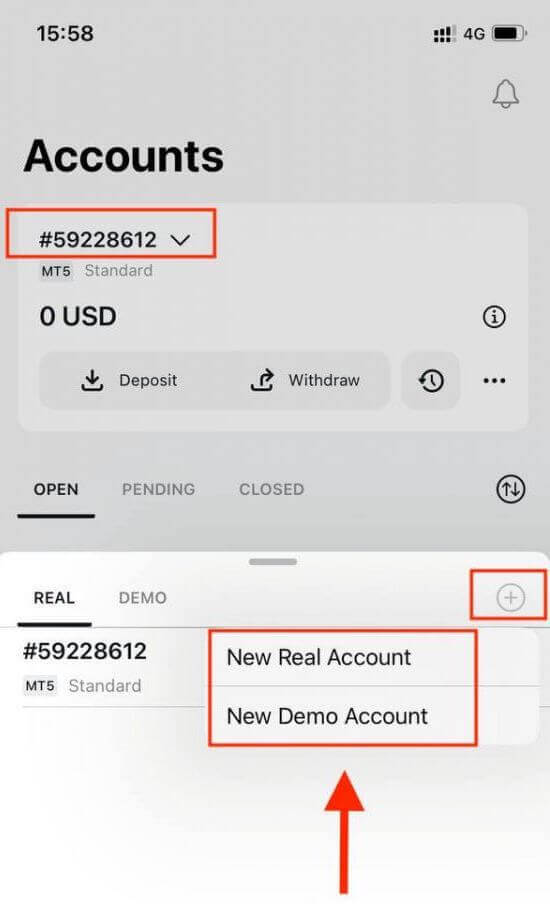 3. Choose your preferred account type under
MetaTrader 5
and
MetaTrader 4
fields.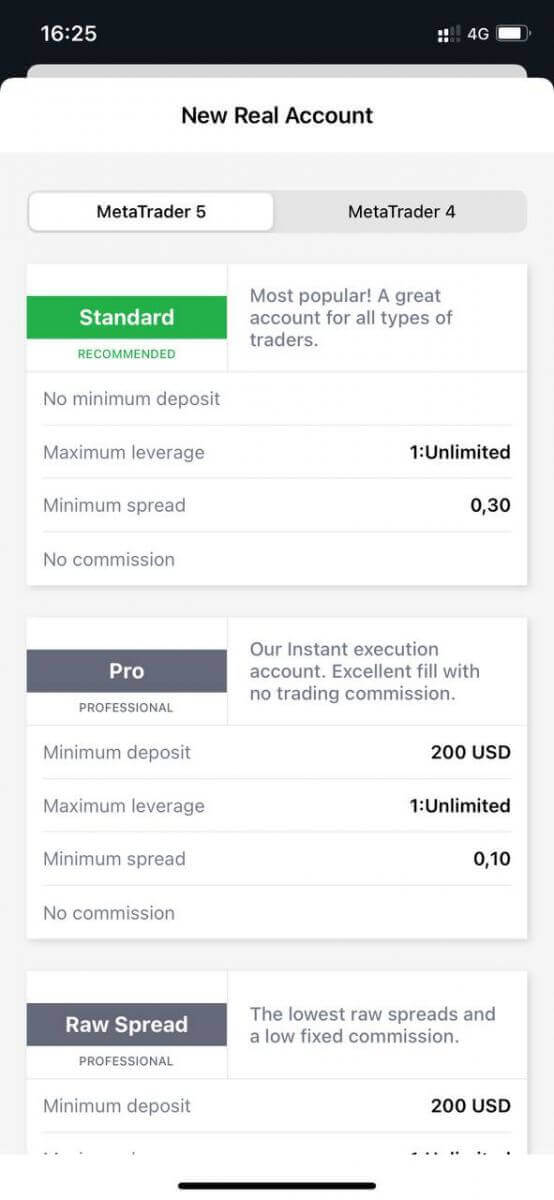 4. Set the 
account currency
, 
leverage
, and enter the 
account nickname
. Tap 
Continue
.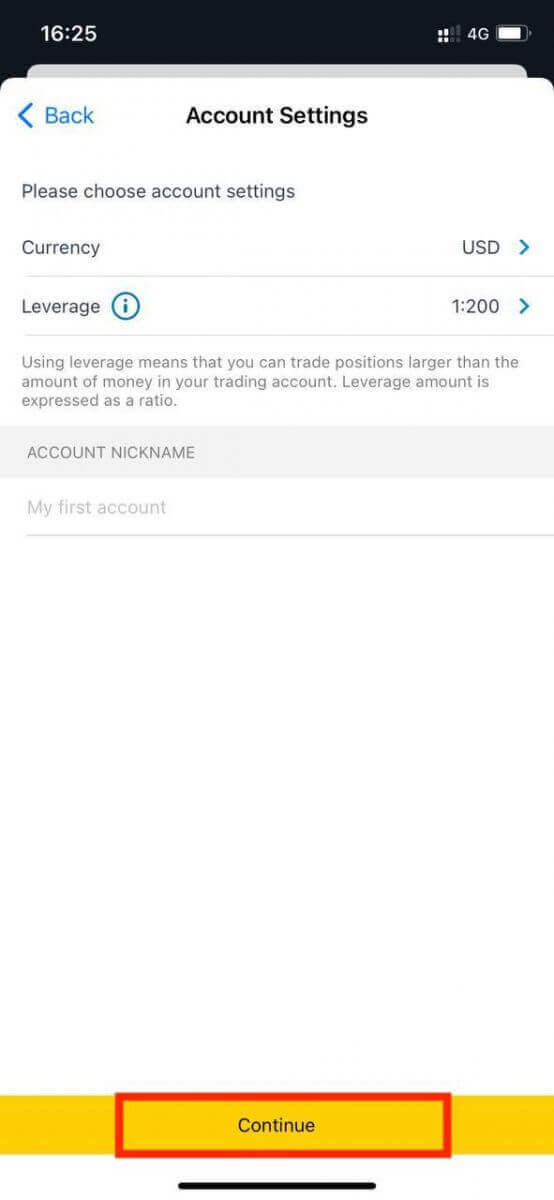 5. Set a trading password as per the displayed requirements.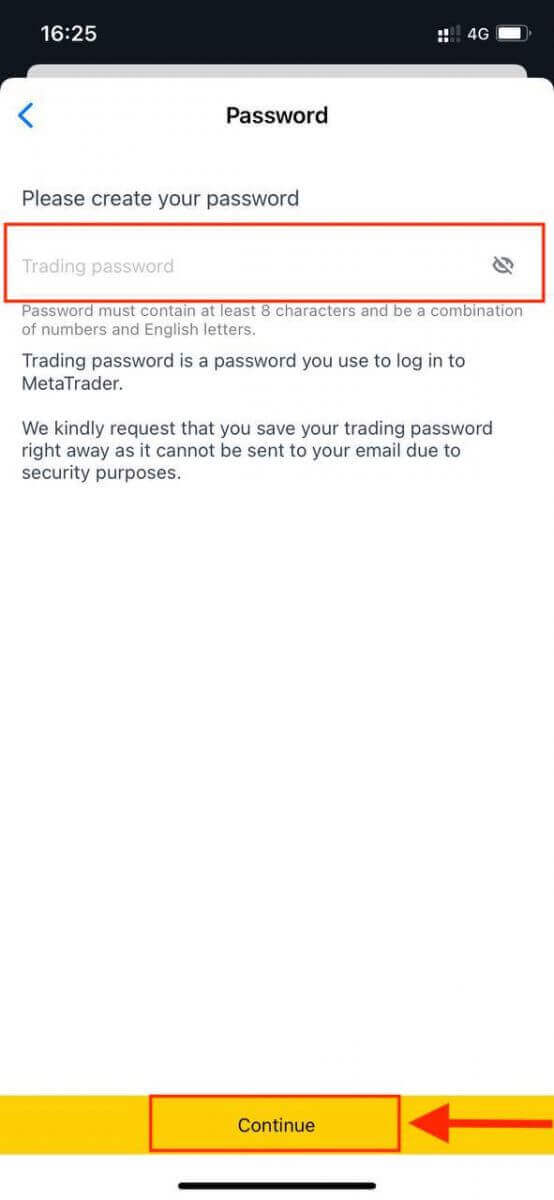 You have successfully created a trading account. Tap 
Make Deposit
 to 
choose a payment method to deposit funds
 and then tap 
Trade.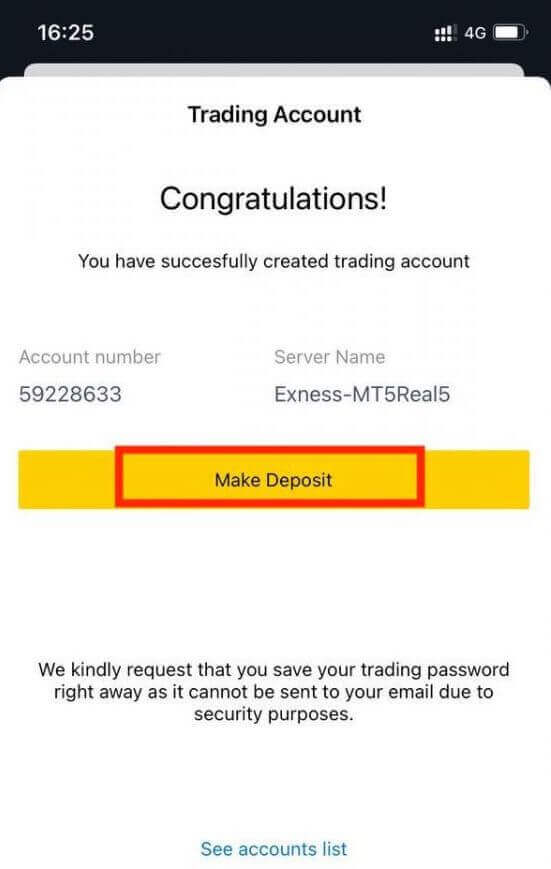 Your new trading account will show up below.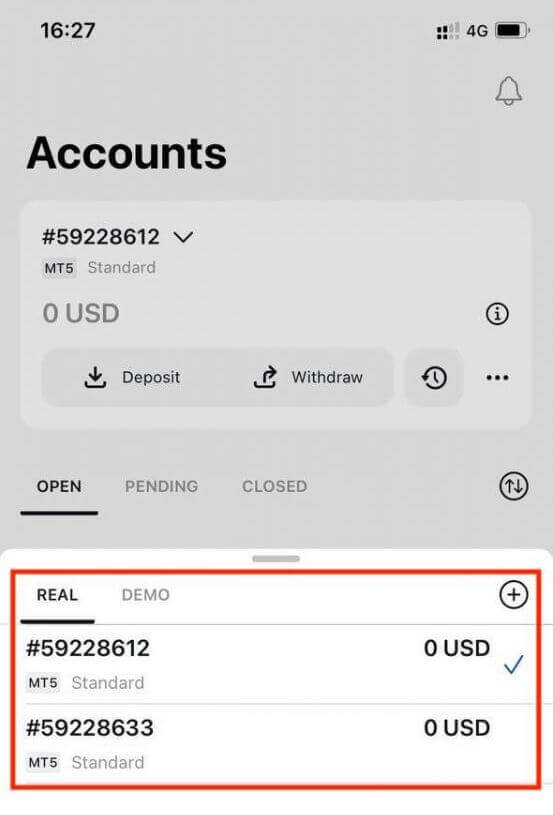 Note that the account currency set for an account cannot be changed once set. If you wish to change your account nickname, you can do so by logging on to the web Personal Area.
How to Deposit Money to Exness
Exness offers a wide range of payment methods specific to your country, and prompt transaction processing times.



Deposit Tips
Funding your Exness account is quick and easy. Here are some tips for hassle-free deposits:
 
The PA displays payment methods in groups of ones which are readily available for use and those that are available post account verification. In order to access our complete payment method offering, make sure your account is fully verified, meaning that your Proof of Identity and Proof of Residence documents are reviewed and accepted.
Your account type may present a minimum deposit required to begin trading; for Standard accounts the minimum deposit depends on the payment system, while Professional accounts have a set minimum initial deposit limit starting from USD 200.
Double-check minimum deposit requirements for using a specific payment system.
The payment services you use must be managed under your name, the same name as the Exness account holder.
While choosing your deposit currency, remember that you will need to make withdrawals in the same currency chosen during the deposit. The currency used to deposit does not need to be the same as your account currency, but note that exchange rates at the time of transaction do apply.
Finally, whichever payment method you are using, please double-check that you haven't made any mistakes when you entered your account number, or any important personal information required.

Visit the Deposit section of your Personal Area to deposit funds into your Exness account, any time, any day, 24/7.



How to Deposit money to Exness



Bank Transfer/ATM Card
Funds can be transferred from one bank account to another bank account through Bank Transfer/ATM Card. Any account holder who is wondering how to transfer money from Bank Transfer/ATM Card should follow the steps mentioned below:

1. Go to the Deposit section in your Personal Area, and choose Bank Transfer/ATM Card.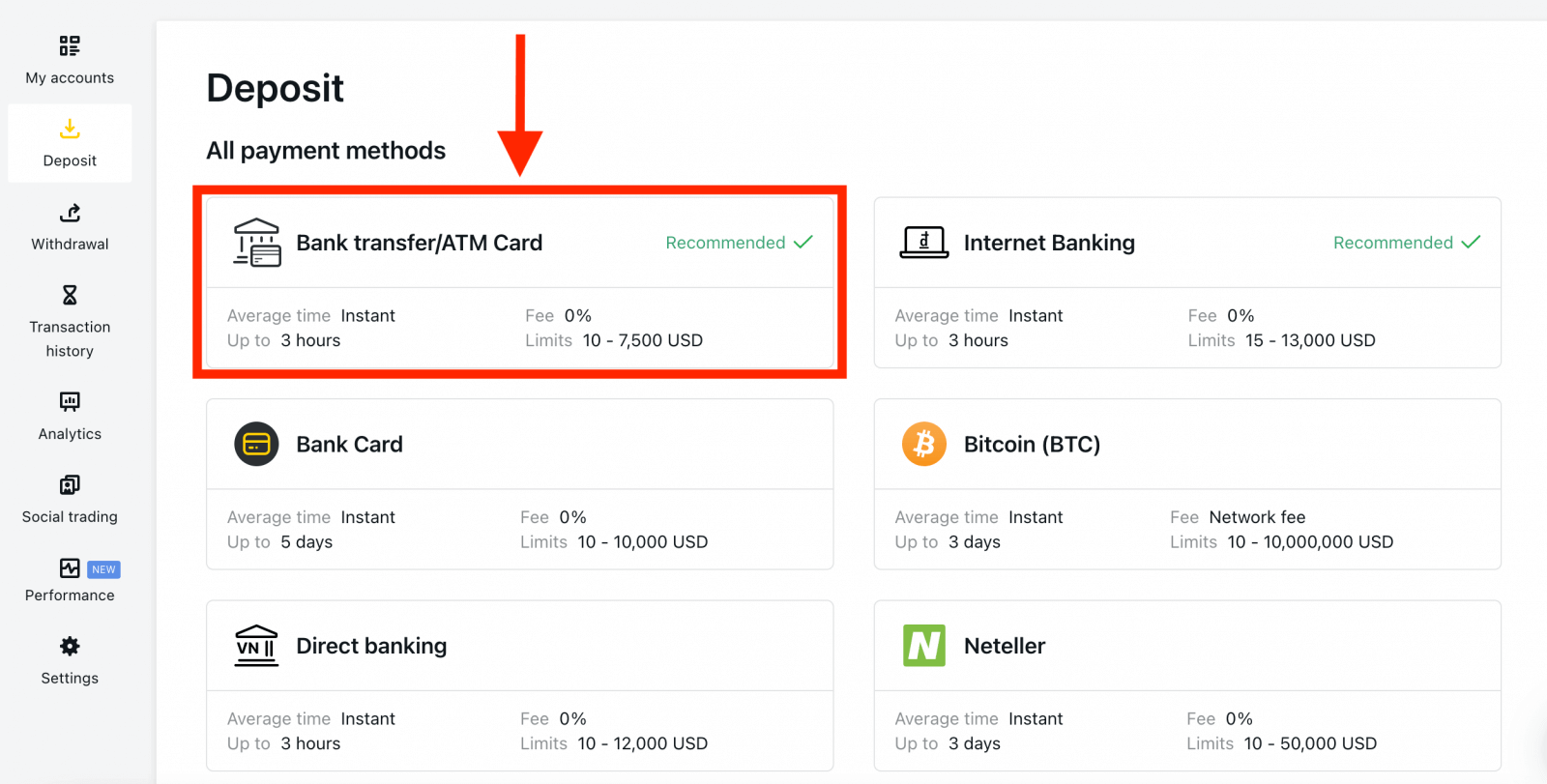 2. Select the trading account you would like to top up and the desired deposit amount noting the currency required, and then click Continue.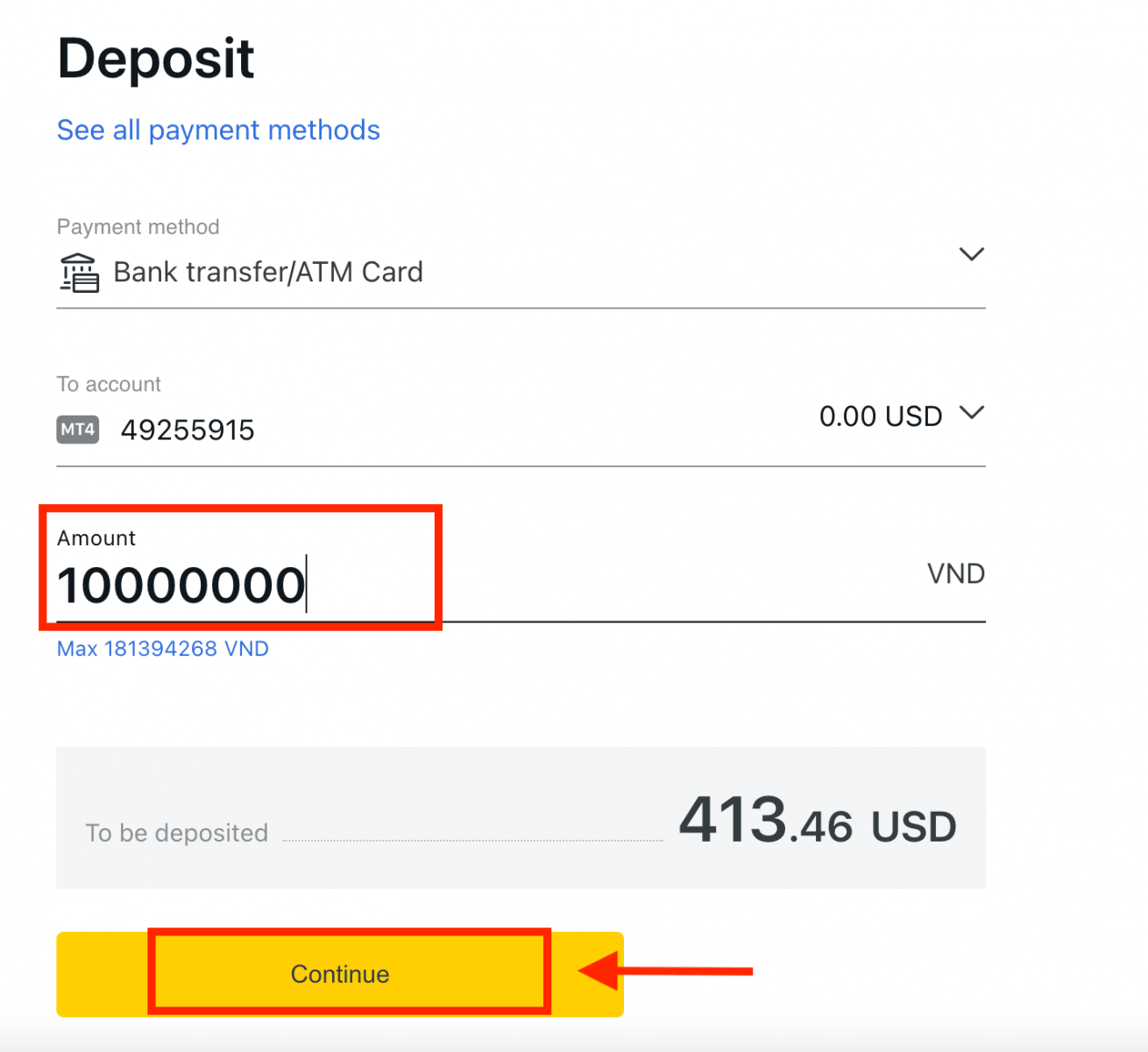 3. A summary of the transaction will be presented to you; click Confirm to continue.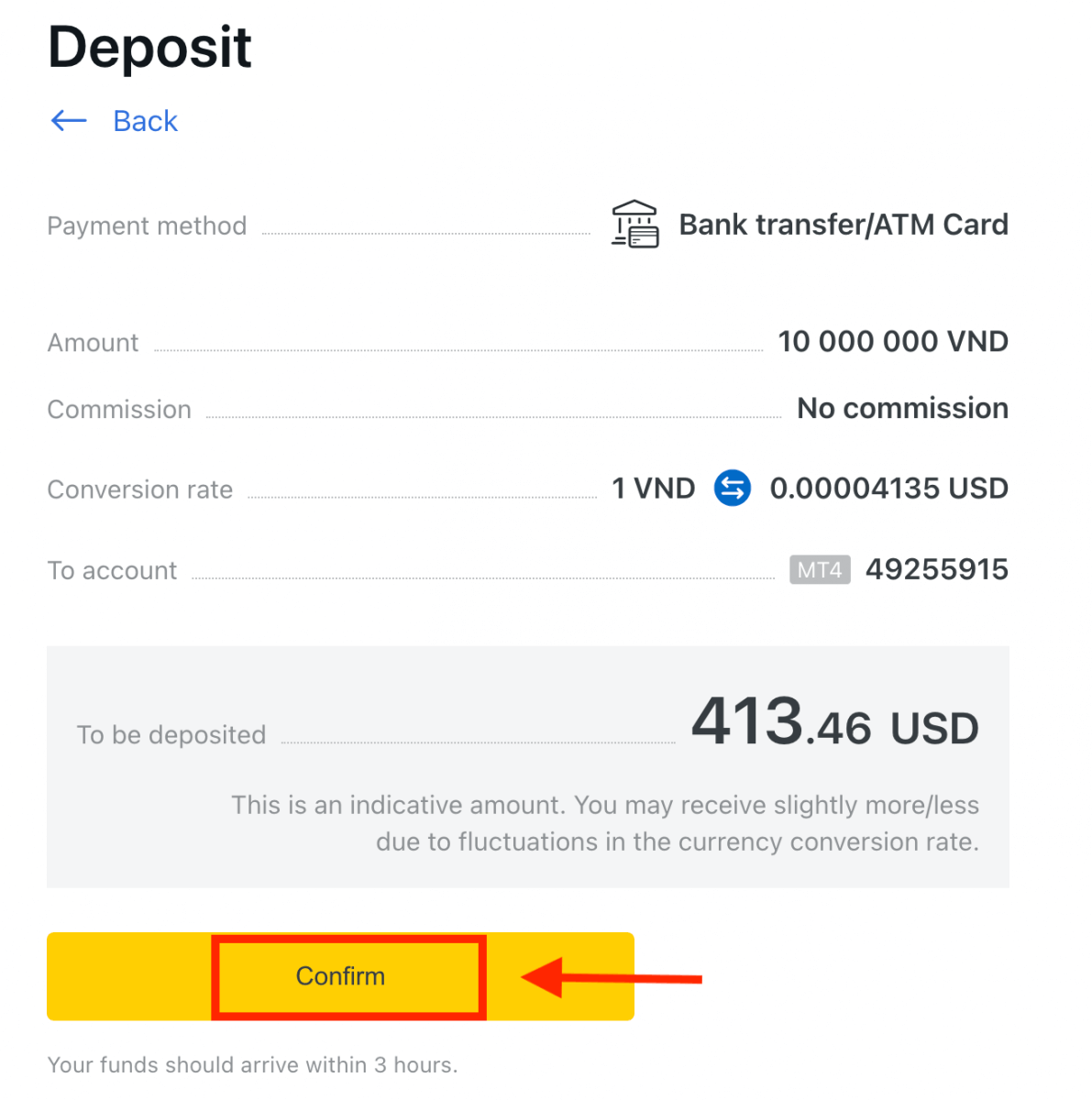 4. Select your bank from the list provided.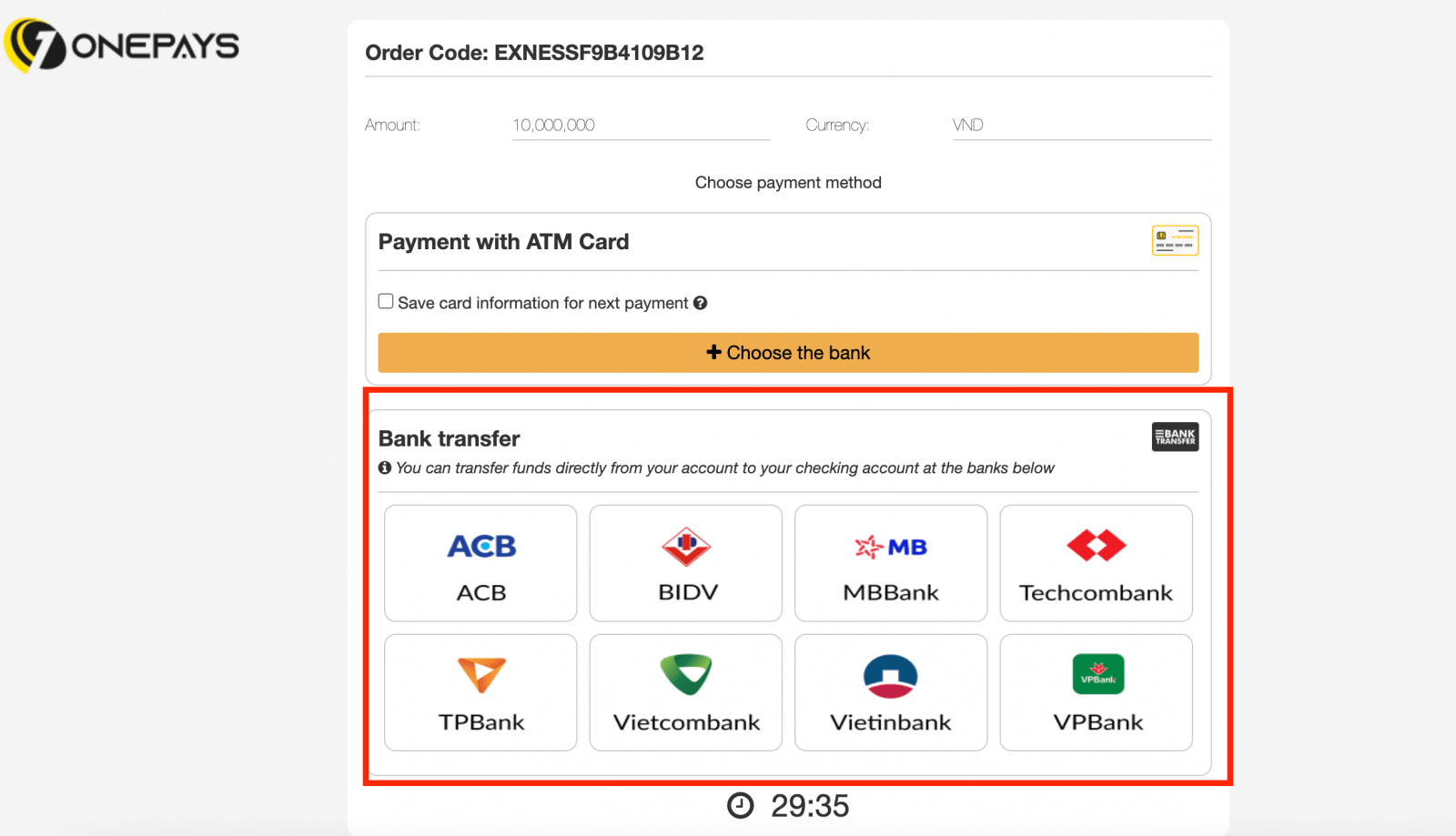 a. If your bank appears greyed out and unavailable, then the amount input at step 2 falls outside of that bank's minimum and maximum deposit amounts.

5. The next step will depend on your chosen bank; either: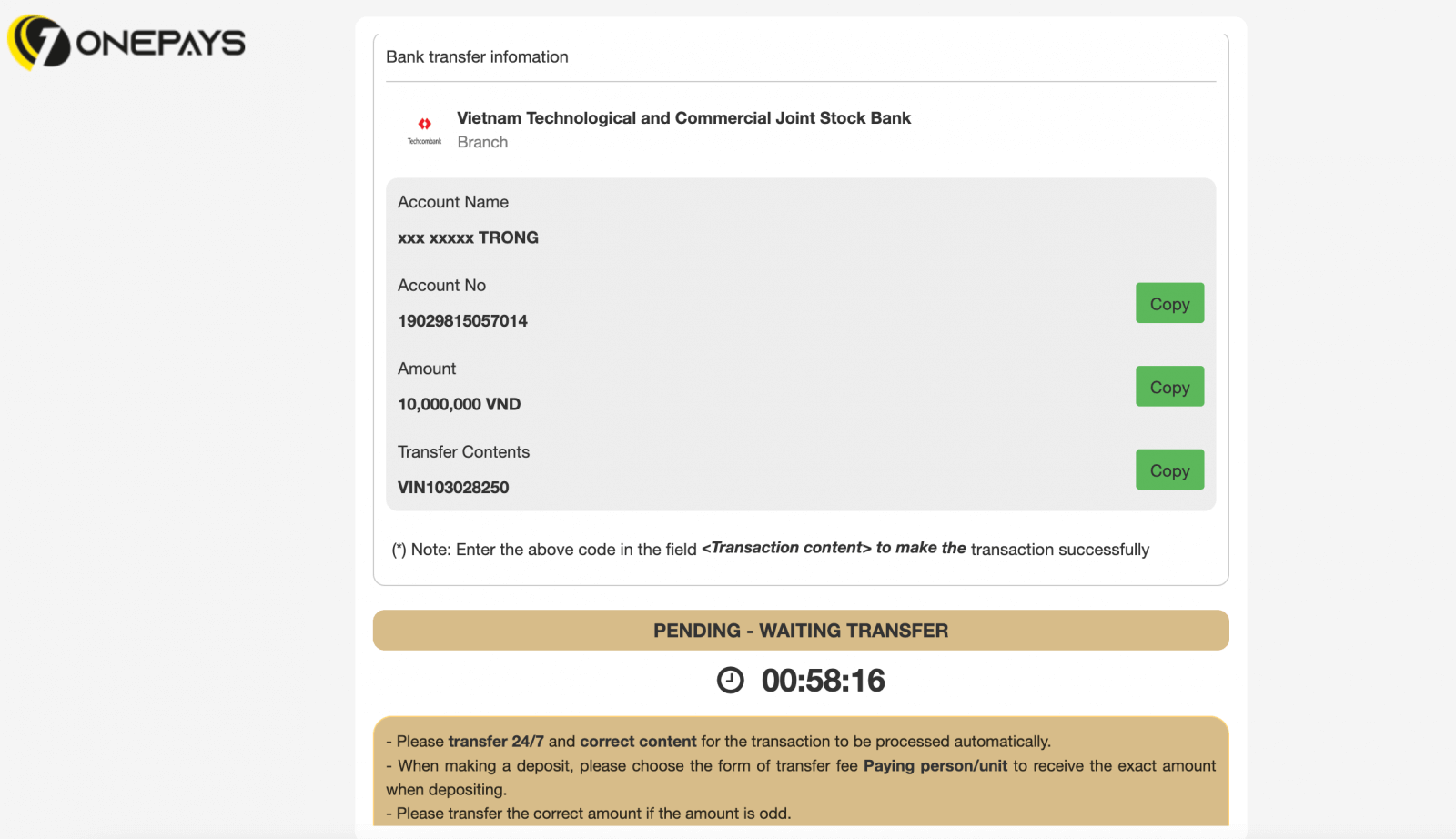 a. Log into your bank account and follow the on-screen instructions to complete the deposit.

b. Complete the form including your ATM card number, account name, and card expiration date, then click Next. Confirm with the OTP sent and click Next to complete the deposit.


Bank Card
Please note that the following bank cards are accepted:
VISA and VISA Electron
Mastercard
Maestro Master
JCB (Japan Credit Bureau)*
*The JCB card is the only bank card accepted in Japan; other bank cards cannot be used. 
Before making your first deposit using your bank card, you need to fully verify your profile.  
Note: payment methods requiring profile verification before use are grouped separately in the PA under the Verification required section.

The minimum deposit amount with a bank card is USD 10 and maximum deposit amount is USD 10 000 per transaction, or the equivalent in your account currency.

Bank cards cannot be used as a payment method for PAs registered to the Thailand region.
1. Select
Bank Card
in the
Deposit
area of your Personal Area.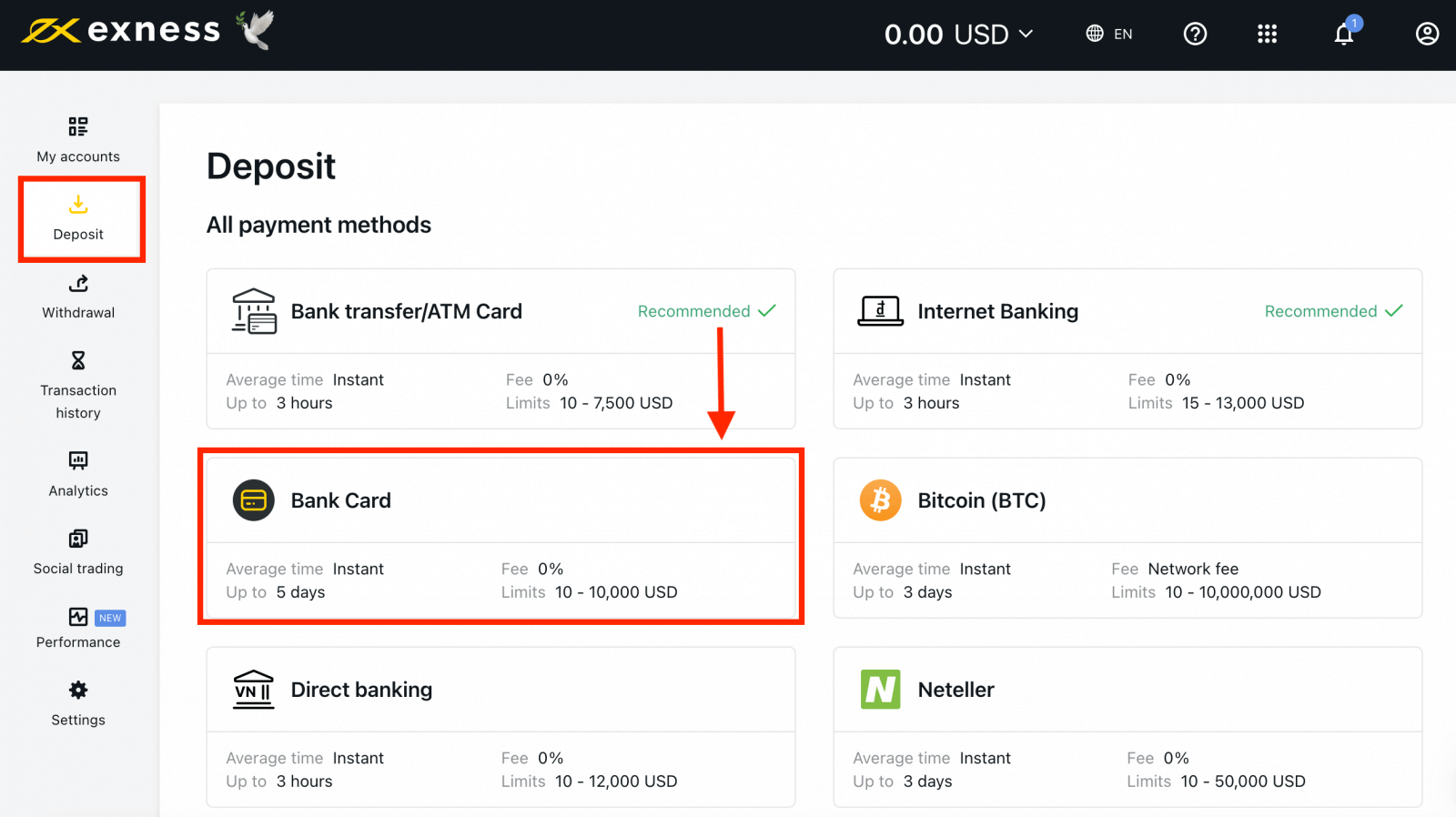 2. Complete the form including your bank card number, cardholder's name, expiry date, and the CVV code. Then, select the trading account, currency and deposit amount. Click
Continue
.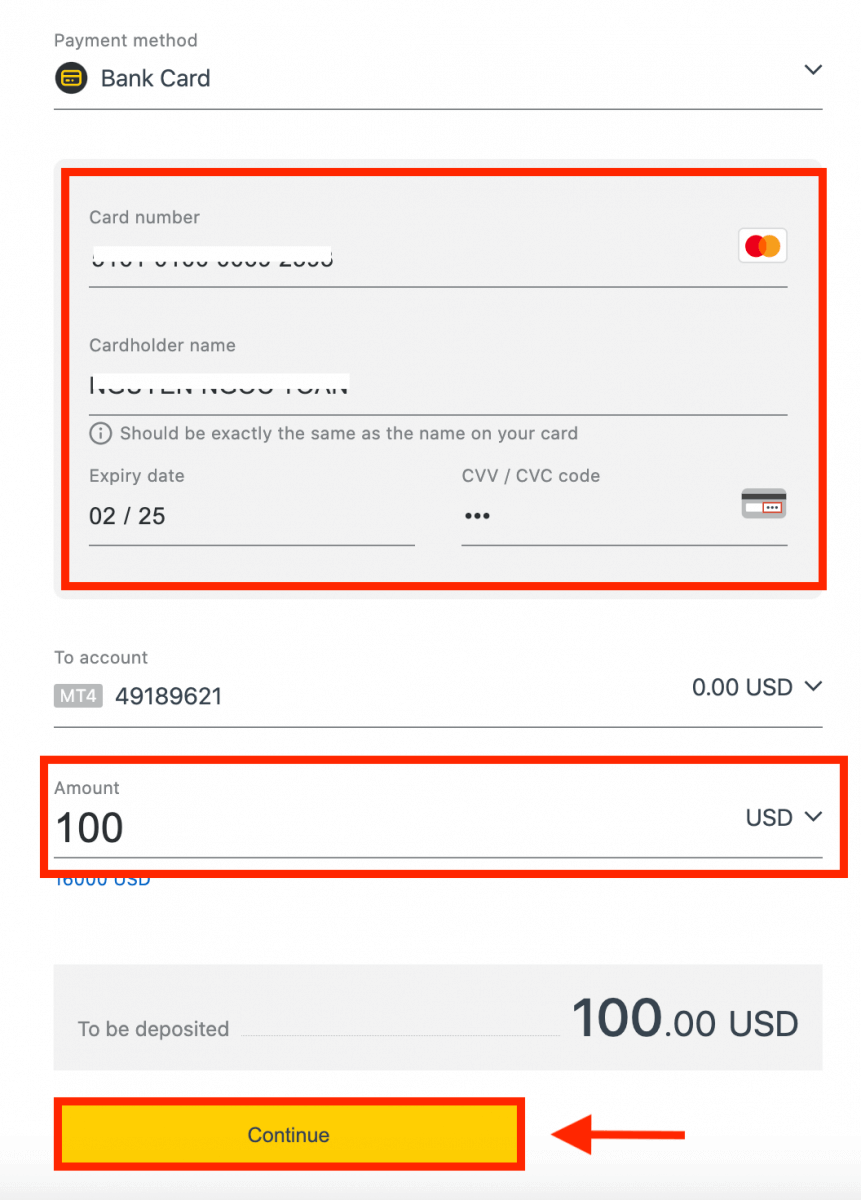 3. A summary of the transaction will be displayed. Click
Confirm
.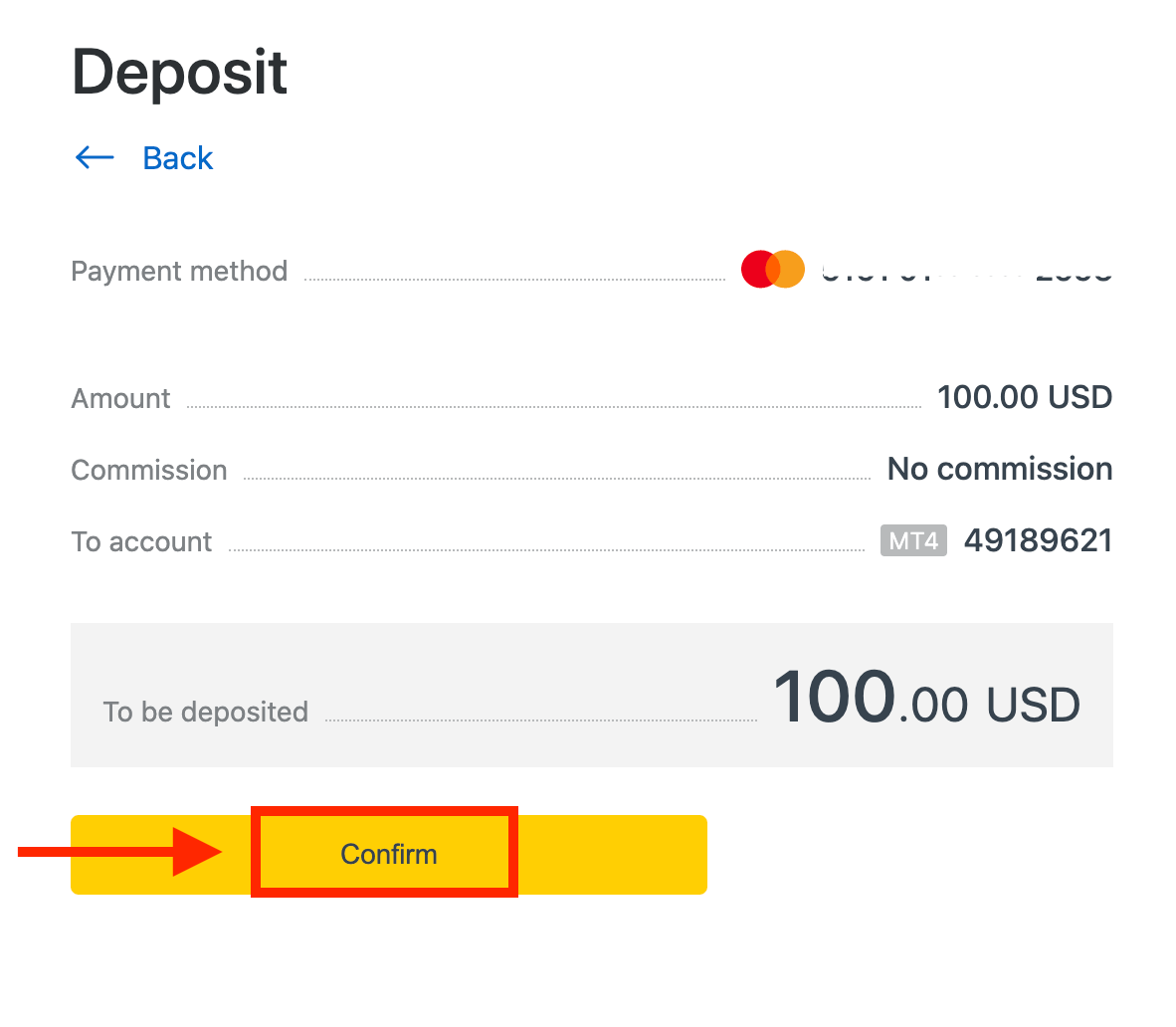 4. A message will confirm the deposit transaction is complete.
In some cases, an additional step to enter an OTP sent by your bank may be required before the deposit transaction is completed. Once a bank card has been used to deposit, it is automatically added to your PA and can be selected in step 2 for further deposits.
Electronic Payment Systems (EPS)
Electronic payments are growing to be exceedingly popular because of their speed and convenience to the user. Cashless payments save time and are also very easy to perform.
Currently, we accept deposits through:
Neteller
WebMoney
Skrill
Perfect Money
Sticpay
Visit your Personal Area to see the available payment methods, as some may not be available in your region. If a payment method is shown to be recommended, then it has a high rate of success for your registered region.
1. Click on the
Deposit
section.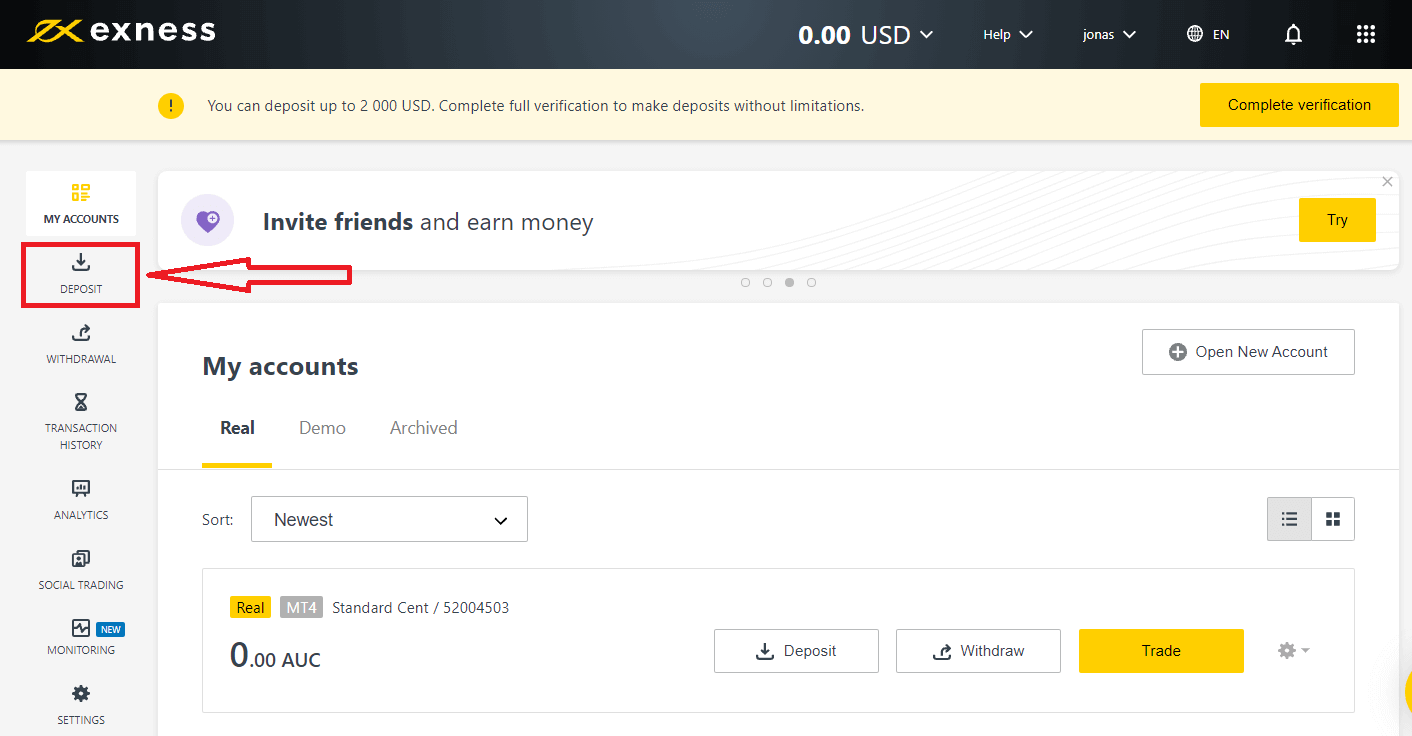 2. Select the payment system you wish to use, such as Skrill.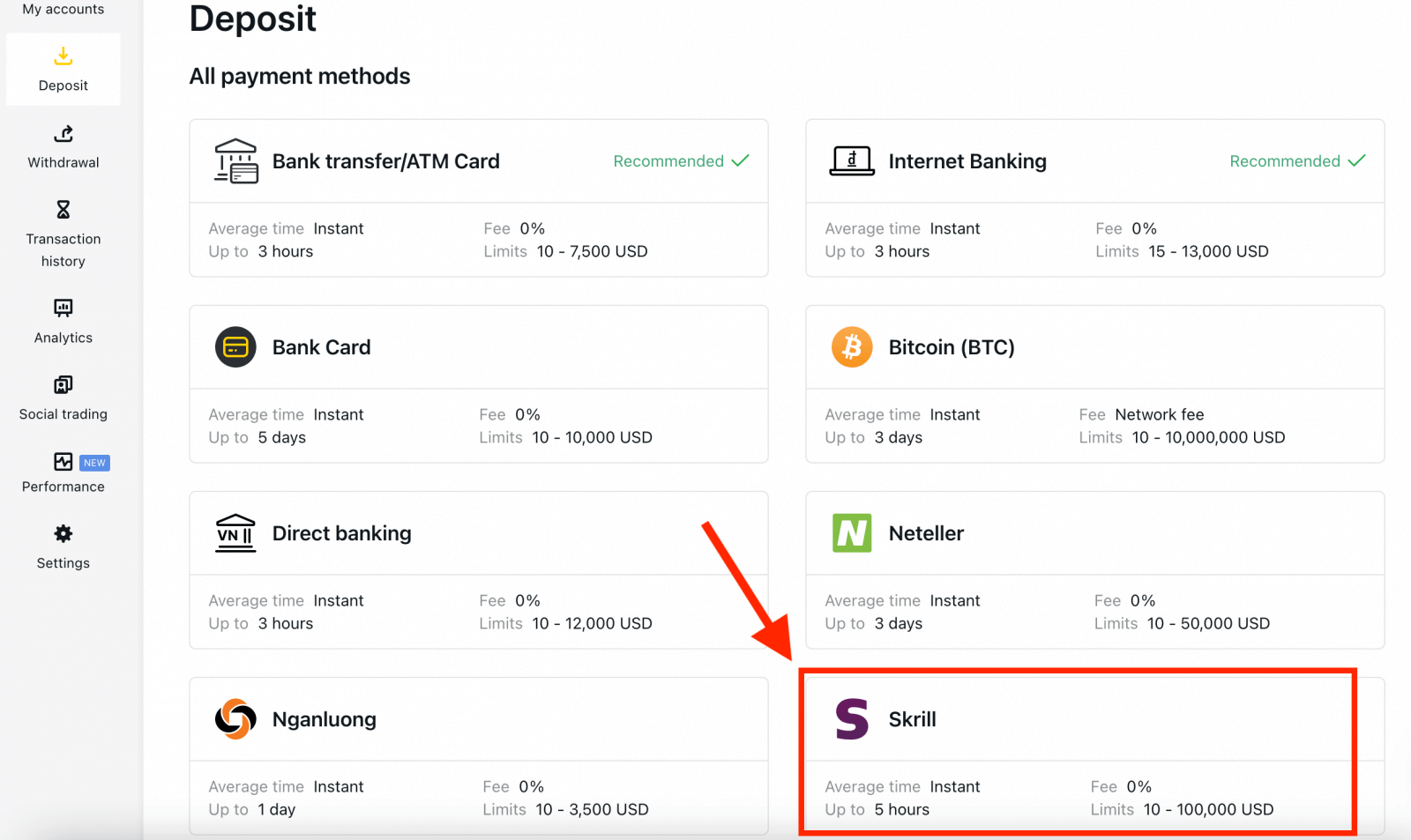 3. In the pop-up menu, choose the account you wish to deposit funds into and click "Continue".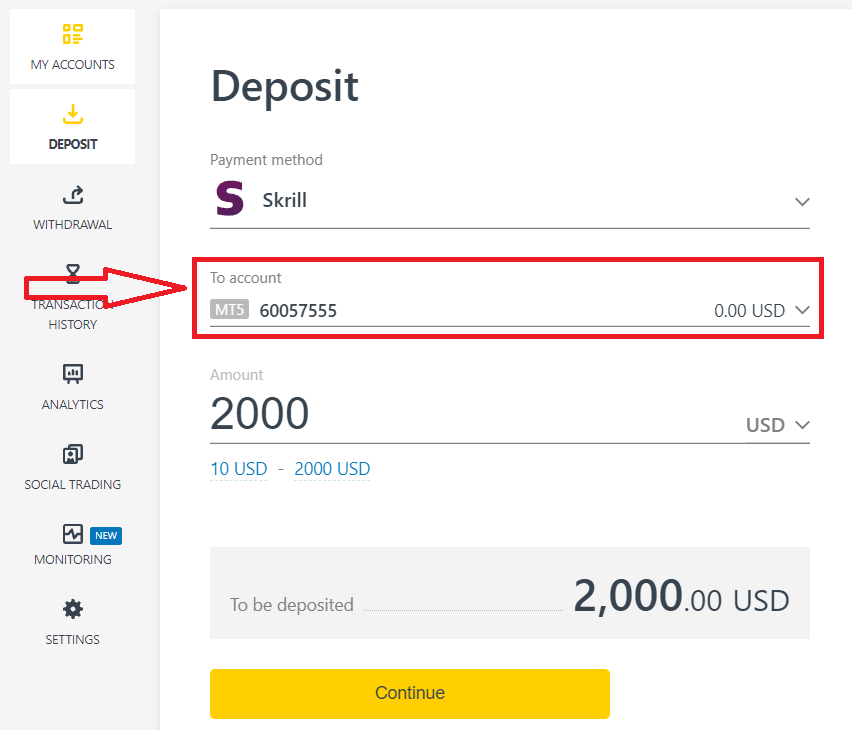 4. Enter the currency and amount of your deposit and click
"Continue".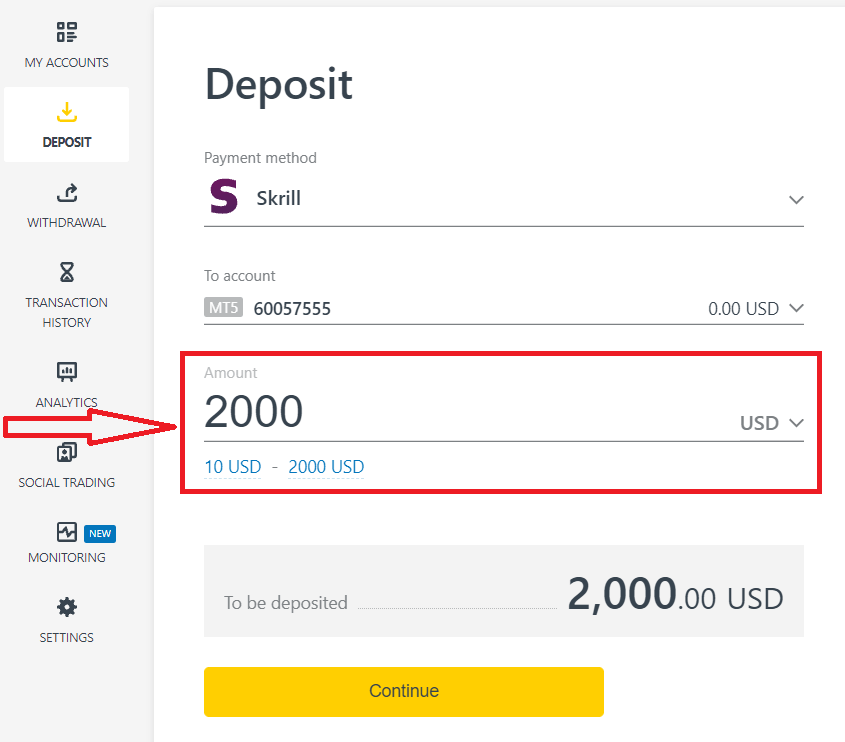 5. Double check your deposit details and click "
Confirm".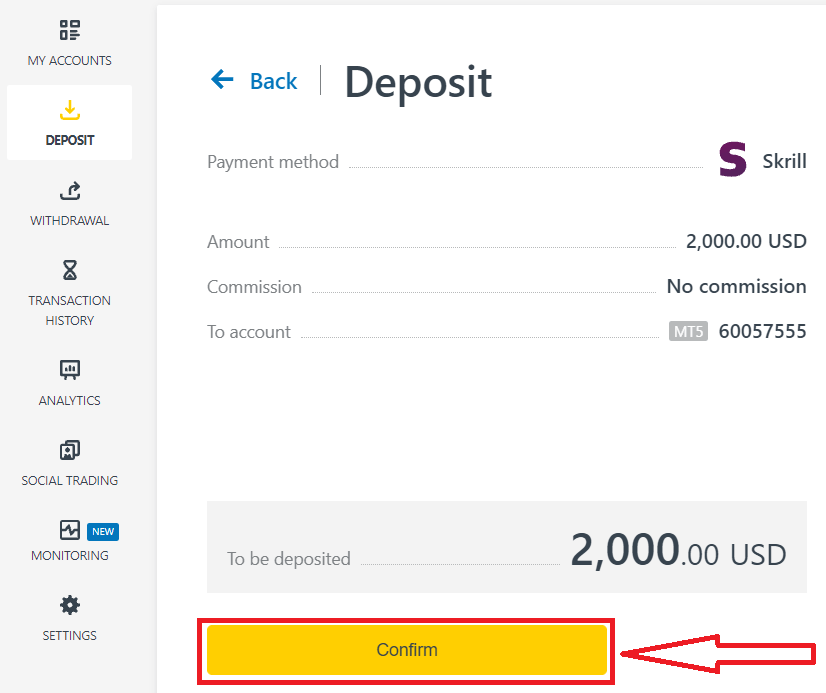 6. You will be redirected to the website of your chosen payment system, where you can complete your transfer.  

Bitcoin (BTC) - Tether (USDT ERC 20)
If you're making your first deposit to Exness, try sending a small amount of crypto first to familiarize yourself with the process and make sure that everything works correctly.
You can fund your trading account via Bitcoin in 3 simple steps:
1. Go to the Deposit section in your Personal Area, and click 
Bitcoin (BTC)
.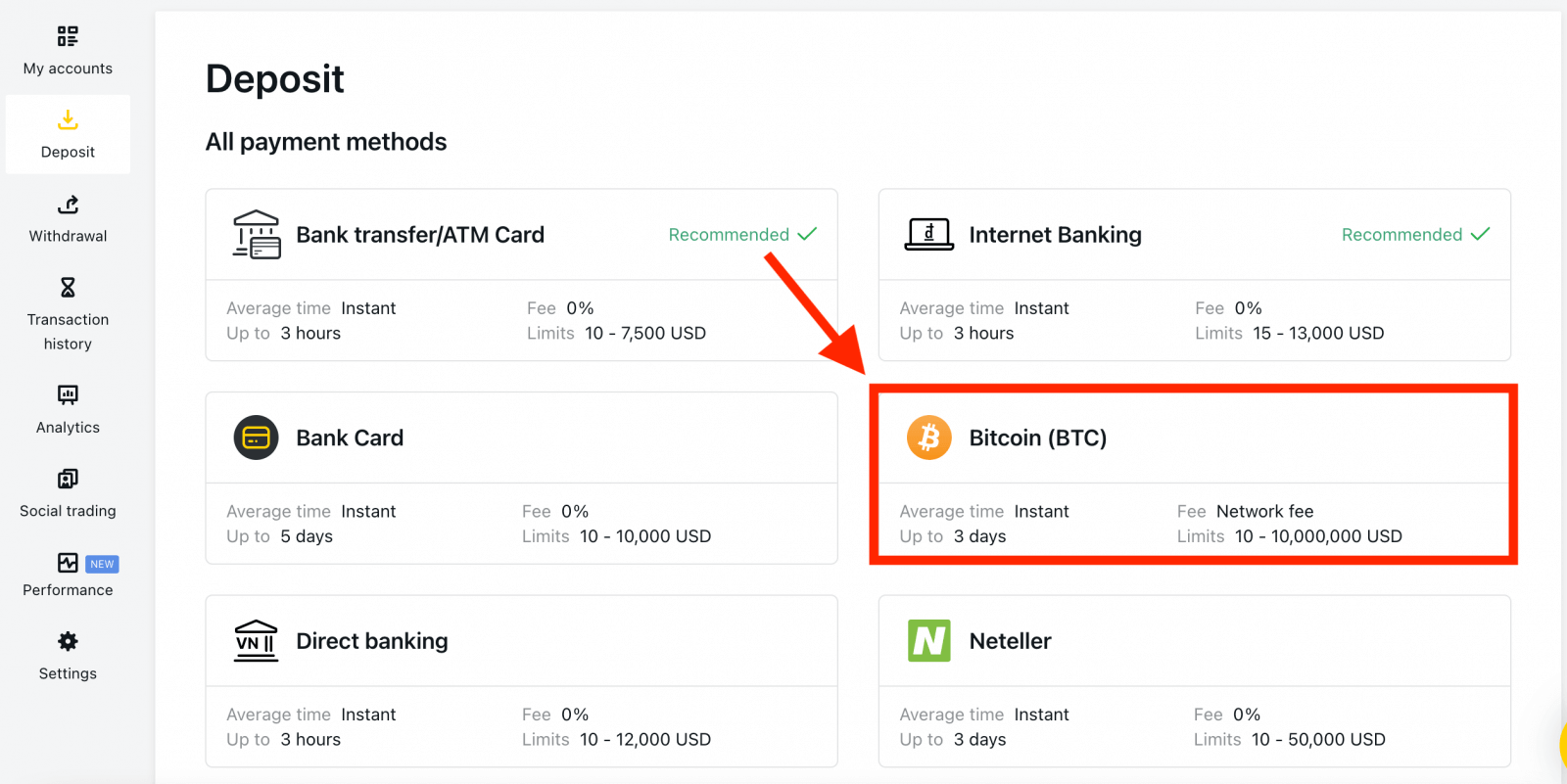 2. Click 
Continue
.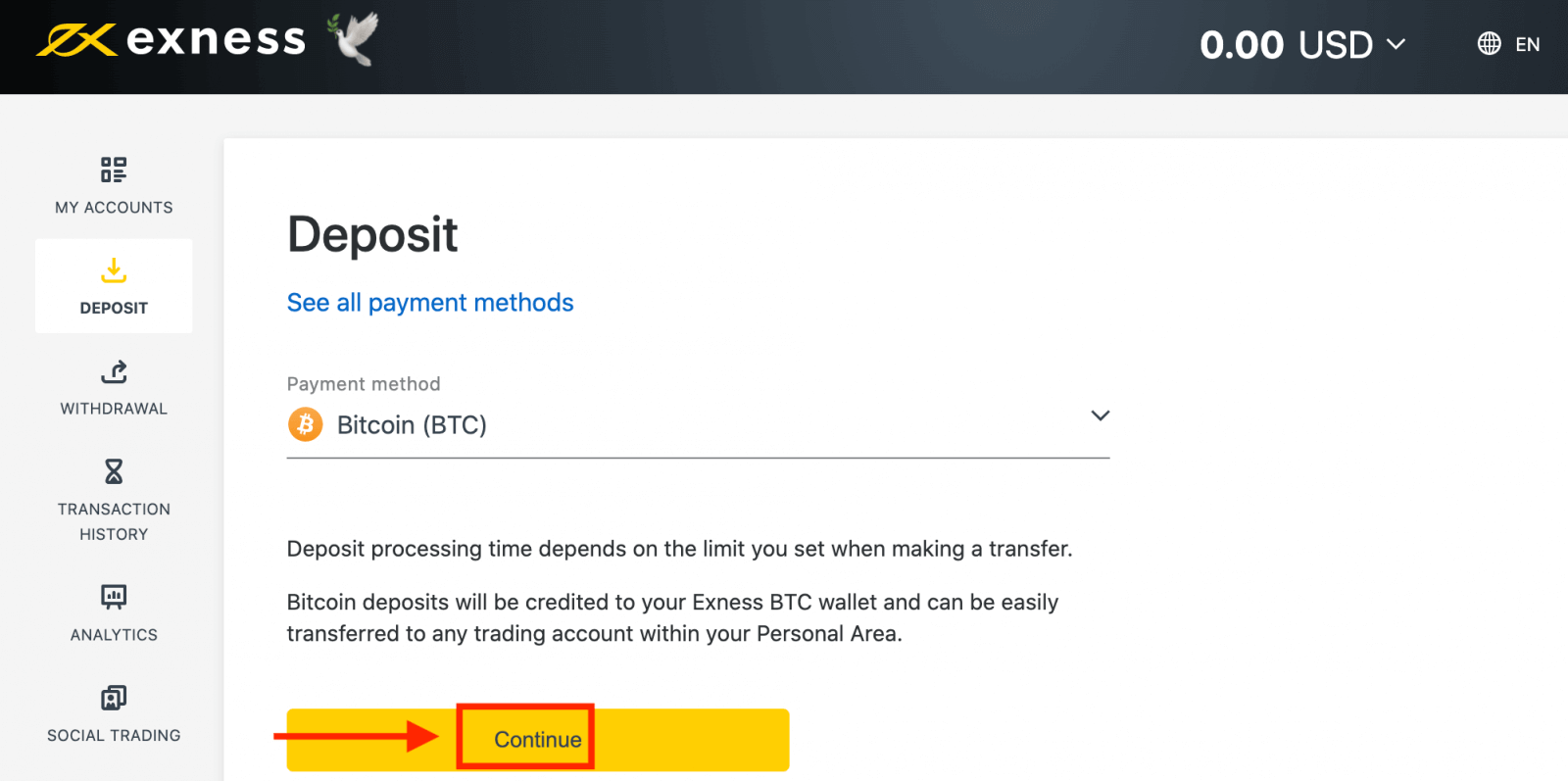 3. The assigned BTC address will be presented, and you will need to send the desired deposit amount from your private wallet to the Exness BTC address.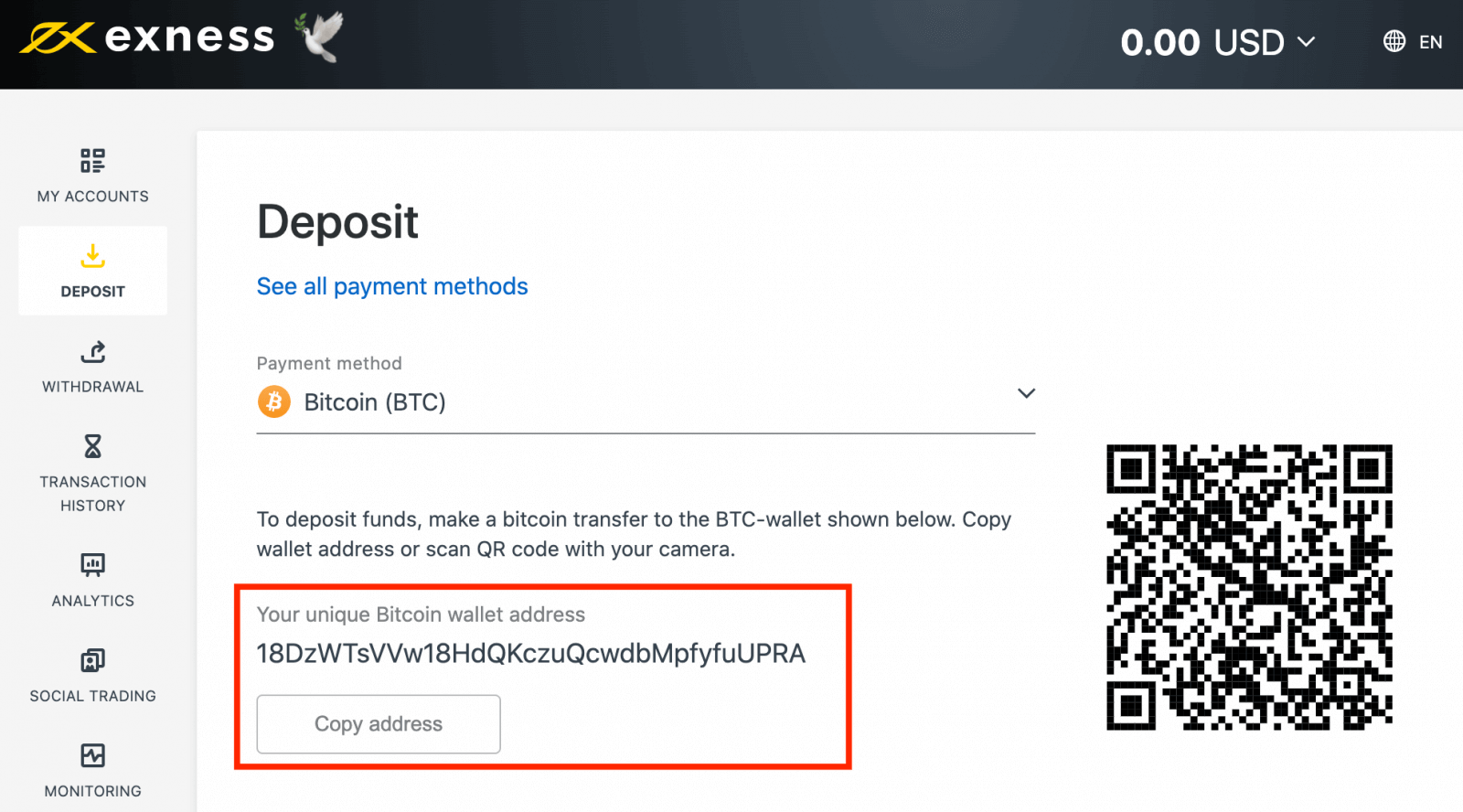 4. Once this payment is successful, the amount will reflect in your chosen trading account in USD. Your deposit action is now complete.
Wire Transfers
1. Select
Wire Transfer
from the
Deposit
area in your PA.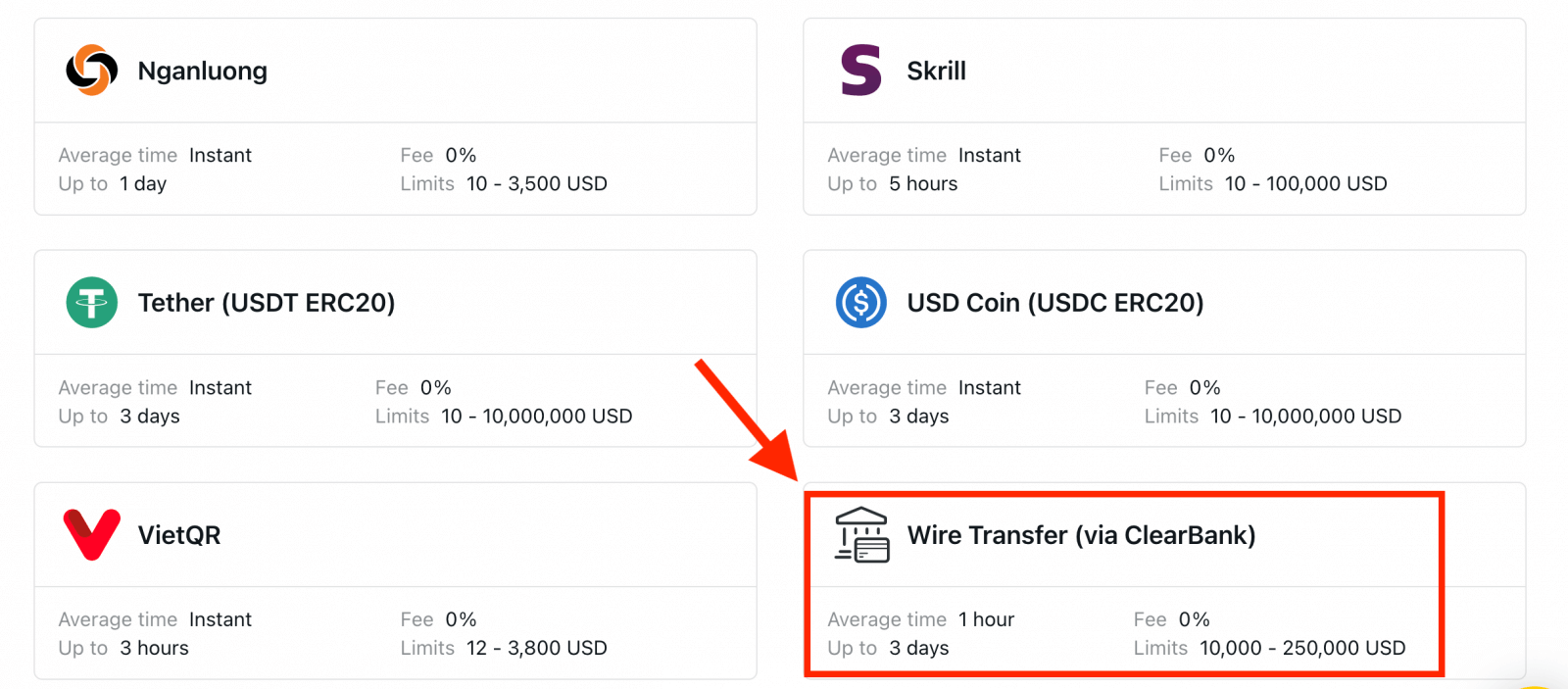 2. Choose the trading account you would like to deposit into, as well as the account currency and deposit amount, then click
Continue
.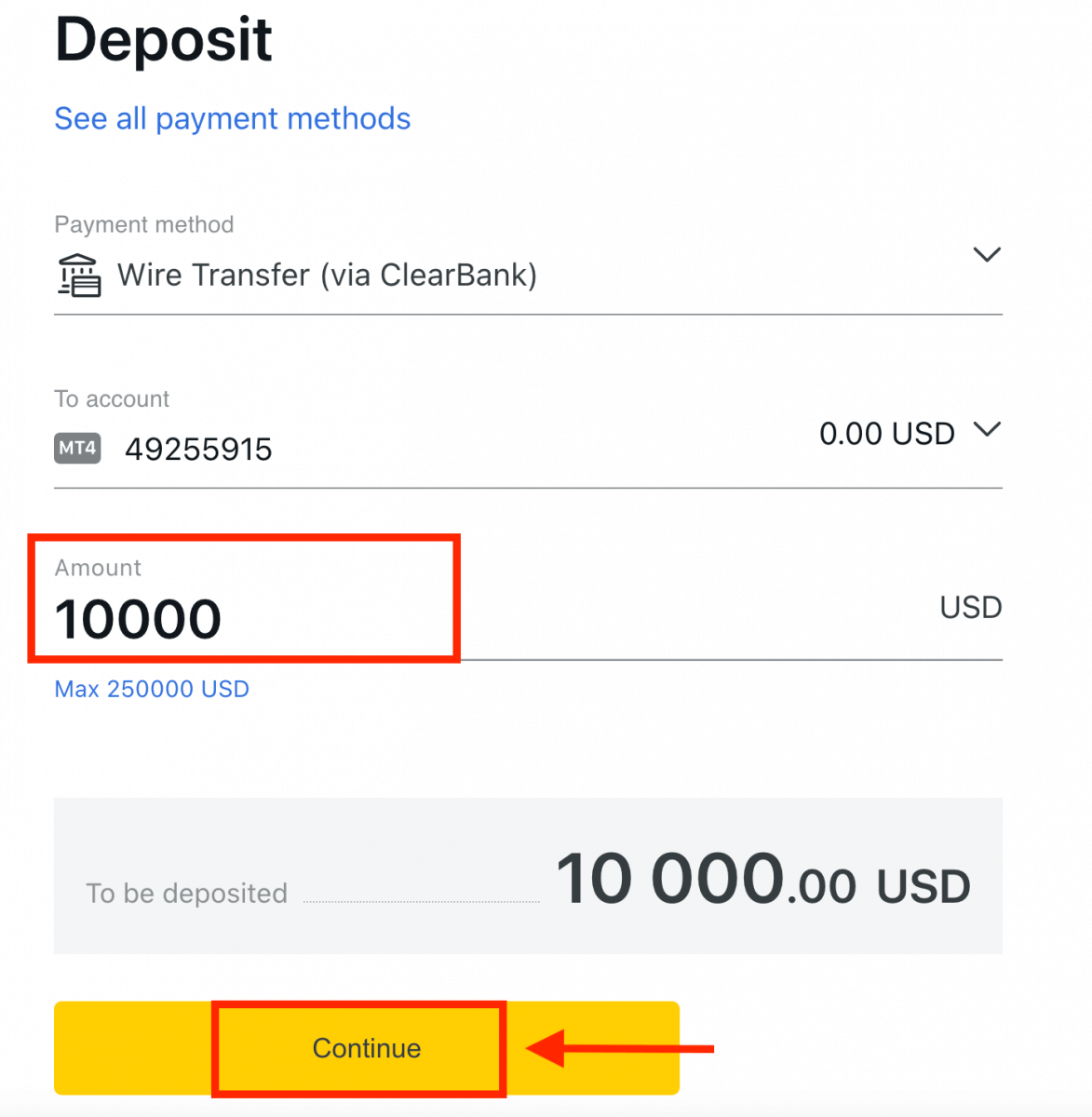 3. Review the summary presented to you; click
Confirm
 to continue.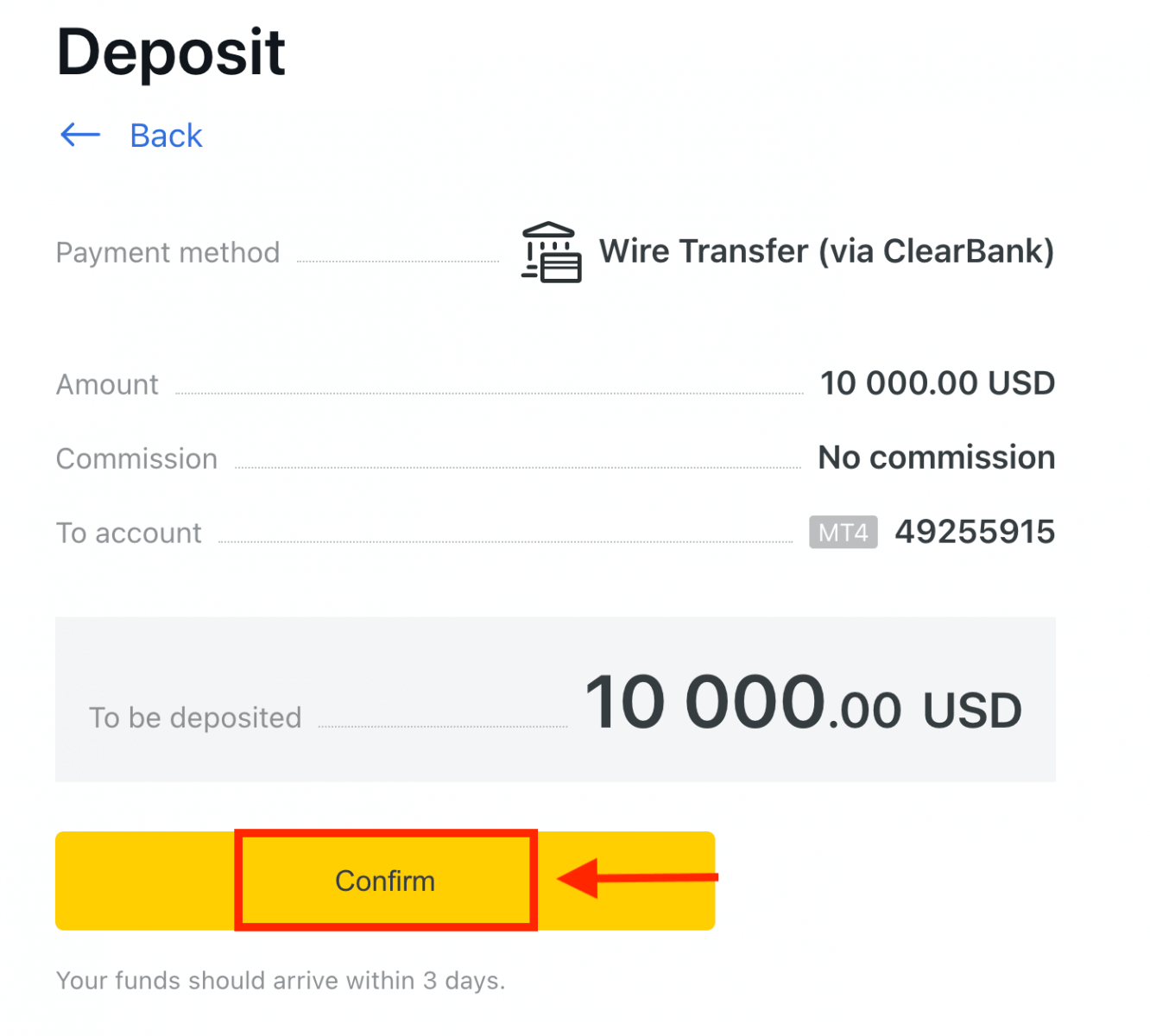 4. Complete the form including all critical information, and then click
Pay
.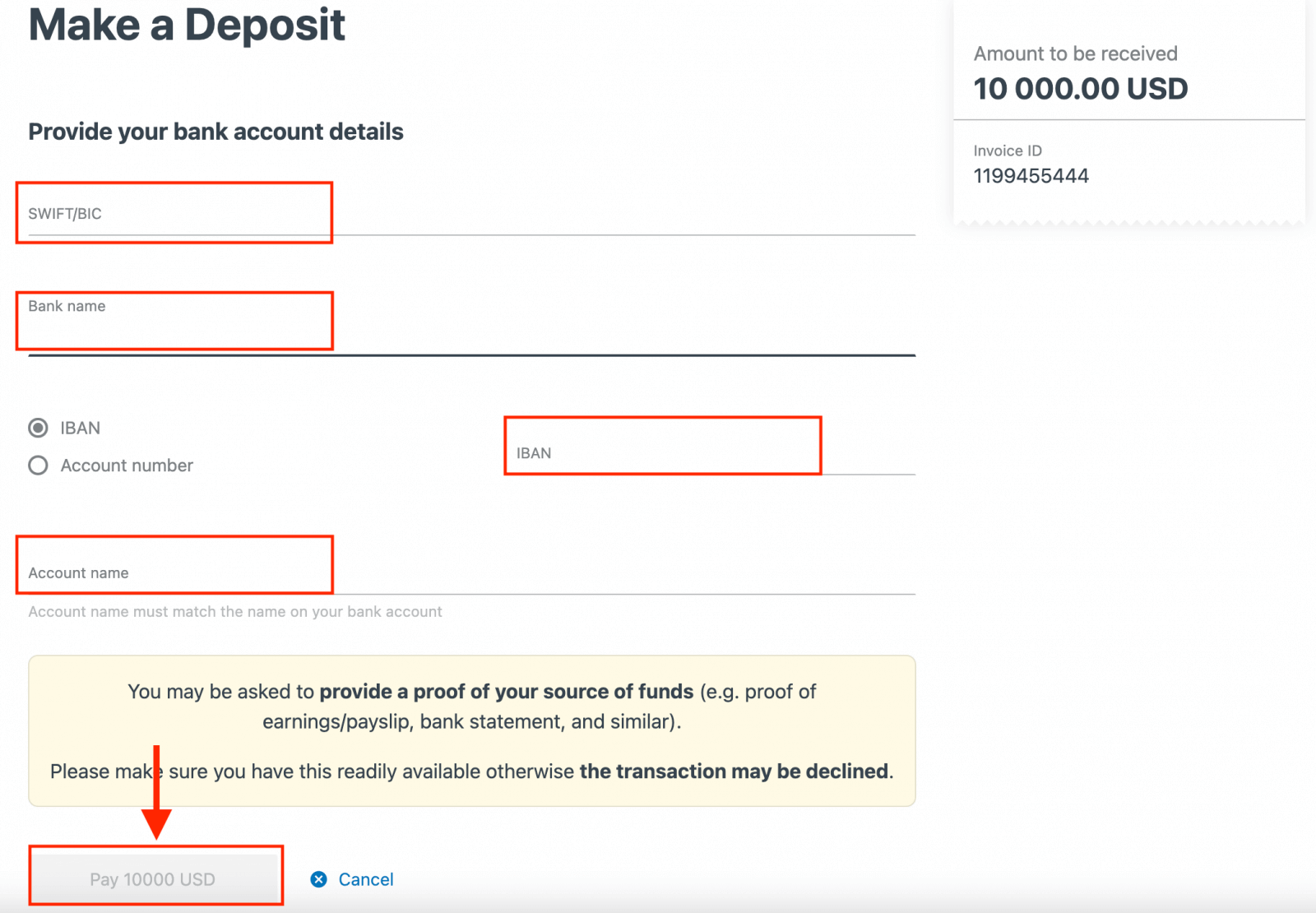 5. You will be presented with further instructions; follow these steps to complete the deposit action.
Frequently Asked Questions (FAQ)



Deposit fees
Exness does not charge commission on deposit fees, though it is always best to double-check the conditions of your chosen Electronic Payment System (EPS) as some may have service fee charges from the EPS service provider.



Deposit processing time
Processing times can vary based on the payment method you used to deposit funds. All available methods will be shown to you in the Deposit section of your Personal Area.
For most payment systems offered by Exness, the deposit processing time is instant, understood to mean that the transaction is carried out within a few seconds without manual processing.
If the stated deposit time has been exceeded, please contact the Exness Support Team.



How can I be sure that my payments are safe?
Keeping your funds secure is very important, so safeguards are put in place to ensure this:
1. Segregation of client funds:
your stored funds are kept separate from company funds, so that anything that may affect the company will not affect your funds. We also make certain that funds stored by the company are always greater than the amount stored for clients.
2. Verification of transactions:
withdrawals from a trading account require a one-time PIN to verify the account owner's identity. This OTP is sent to the registered phone or email linked to the trading account (known as a security type), ensuring transactions can only be completed by the account owner.



Do I need to deposit real money when trading on a demo account?
The answer is No.
When you register with Exness through the web, you will automatically be given a demo MT5 account with
USD 10,000
virtual funds which you can use to practice your hand at trading. Furthermore, you can create additional demo accounts which have a preset balance of USD 500 which can be changed during account creation and even afterwards.
Registering your account on the Exness Trader app
will also give you a demo account with a balance of USD 10,000 ready to use. You can add or deduct this balance using the
Deposit
or
Withdrawal
buttons respectively.